TV Review: Psych - Holiday Episode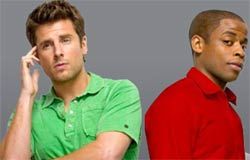 Psych - "Gus' Dad May Have Killed an Old Guy"
Creator: Steve Franks
Starring: James Roday, Dule Hill, Timothy Omundson, Maggie Lawson, Corbin Bernsen
Guest Starring:: Ernie Hudson, Phylicia Rashad
Premieres: Friday, December 7, 2007 at 10:00 p.m. on USA
Spoiler Alert: This review contains some spoilers from the upcoming holiday episode of Psych
Though Psych isn't supposed to return with new episodes until sometime in 2008, USA is making an exception by airing a random holiday episode this Friday. The episode, titled "Gus' Dad May Have Killed an Old Guy" is pretty well described by the title. As it's the holidays, Gus and Shawn head back to their old neighborhood to have dinner with Gus' parents (played by Ernie Hudson and Phylicia Rashad). While they're visiting, the old man who lives next door dies mysteriously and Gus' dad is accused of murder.
For those of you who don't watch Psych regularly, the comedy/mystery series centers on Shawn Spencer, a private detective who claims to be psychic, though in reality, his true gift is really keen observational skills. Trained by his father Henry, Sean uses his gift at "seeing" to solve crimes, with the help of his best friend Gus. Gus and Shawn have been friends since they were kids, so episodes often include flashbacks from their youth when they were off getting into trouble and having some laughs. On occasion, the two help the police department solve crimes. One of Shawn's favorite hobbies is getting on Detective Lassiter's nerves and flirting with Lassiter's partner, Juliet.
In this special Christmas episode, Shawn and Gus have dinner with Gus' parents during the holiday season. Gus' mom and dad would like to see their son doing more than just selling pharmaceuticals and helping Shawn out with his psychic detective work. They've never thought much of Shawn and consider him to be a bad influence on their son.
When out caroling, Shawn, Gus and Gus' parents stumble across the body of an old man who died mysteriously in his home. After the cops question Gus' father, they believe there is enough evidence to arrest him for the man's murder. Naturally, Gus is pretty distraught by this, so he and Shawn set out to find out who really killed the guy. As is often the case in Psych, the mystery du jour serves to drive the episode forward but what really makes this episode enjoyable is seeing Gus interact with his parents as well as seeing Gus and Shawn's relationship through Gus' parents eyes.
In my review of the Monk holiday episode, I complained a little bit about the lack of heart in the story, given the fact that it's a holiday episode. Pysch's Christmas episode delivers that special brand of holiday magic that Monk's episode seemed to lack. In this episode, the murder mystery comes second to what is going on between the characters. That is the kind of thing I think we all look for with holiday episodes of our favorite series.
We want to see the characters coming together for the holidays, sharing memories and really connecting with each other. There's a scene in this episode where Gus uses his "super smeller" (that's what he calls his nose, because he has an excellent sense of smell) to describe some food. His parents then each take a turn smelling the food and making comments about the ingredients. Apparently, Gus has inherited his gift of smell from his parents. It's a humorous moment that is also charming because it lets us see Gus as part of a family, similar to how we see Shawn when he's with his father.
It should also be noted that Ernie Hudson and Phylicia Rashad were fantastic choices for the roles as Mr. and Mrs. Guster. You'll probably remember Hudson best from his role as Winston in Ghostbusters and Rashad for her role as one of the greatest moms in TV history, Clair Huxtable. Hudson and Rashad as Gus' parents are exactly as I would picture his parents if I'd ever thought to picture them at all. They're both kind people who want the best for their son, even if they do tend to baby him a little bit.
As for the rest of the episode, there's a side plot involving Juliet and Lassiter, in which Juliet invites her partner to visit her family's house to join in on some of their holiday festivities. As always, Lassiter's inability to blend in and go with the flow causes some problems at the O'Hara house. We also get to see Shawn and his dad sharing a Christmas tradition that involves them trying to guess what they got for each other for Christmas.
For those of you who have been missing Psych since it went on hiatus in September, I think you'll be pretty pleased with this episode. Not only is it full of holiday spirit, but there are definitely quite a few laugh out loud moments and a good murder mystery to enjoy.
Your Daily Blend of Entertainment News
Assistant Managing Editor
Kelly joined CinemaBlend as a freelance TV news writer in 2006 and went on to serve as the site's TV Editor before moving over to other roles on the site. At present, she's an Assistant Managing Editor who spends much of her time brainstorming and editing feature content on the site.