TV Show Based On Braveheart's William Wallace Is In Development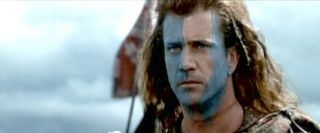 Get your kilt and your blue face paint ready – it looks like a series based on the life of Scottish freedom fighter William Wallace might just become a reality. The project is in development and will be shopped around next month at MIP for a deal to bring Wallace to the small screen in a Game of Thrones-style epic series.
The Hollywood Reporter reports that STV Productions together with Digital Rights Group, Nine/8 Entertainment and Creative Media is developing the project, which originally hails from Braveheart advisor Seoras Wallace (Is the name a coincidence? I suspect not.) and Kent Dalian. The Eleventh Hour's Mick Davis is on board in a creative, writing and executive producing capacity.
The series is expected to tell the tale of the life of William Wallace in a more in-depth fashion than the film Braveheart, which was a biopic of Wallace's life. It will follow his years of fighting to bring Scotland together, and to gain freedom and independence for his nation during a time of incredible upheaval in Scotland. It will also look to his personal life – loves and friendships, and of course his great rivalries with other Scottish lords and Edward the Longshanks, King of England and Wallace's greatest foe. Director of content for STV, Alan Clements says:
It's not just my Scottish background that has me excited about this one, but my long-standing belief that Braveheart could have been much better than it was, Academy Award or not. Who will be cast as Wallace if it goes to pilot will be far and away the most important factor, and I'm hopefully not alone in wanting to see a Scotsman in the role. I'll be watching this one closely.
Your Daily Blend of Entertainment News