Tim Robbins And Jack Black To Star In HBO Comedy The Brink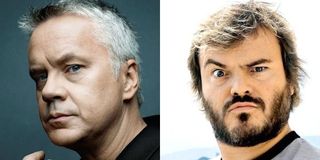 Some of us are still getting over the news that Stephen Merchant's underrated comedy Hello Ladies isn't coming back for a second season, but that's no reason we can't celebrate HBO's decision to move forward with another promising sounding comedy, which will star Tim Robbins and Jack Black.
THR describes The Brink as a comedy that centers on geopolitical crisis and the effect it has on three disparate and desperate men. Robbins is set to star as U.S. secretary of state, while Black will play a lowly foreign service officer caught in the middle of everything.
The series is being executive produced by Jerry Weintraub, Jay Roach and Roberto Benabib. Weintraub's likely better known for his feature work, having produced Ocean's Eleven (and its sequels), Vegas Vacation and all the Karate Kid movies (Parts I, II, III, Next and the remake). But he also produced Behind the Candelabra, which landed at HBO last year, so he's no stranger to the premium cable network. And neither is Jay Roach, who's also likely better known for his feature work but executive produced Game Change for HBO. It's actually Benabib who seems to have the most experience with TV series of this trio, having executive produced Ally McBeal and more recently, Showtime's Weeds. Benabib and his brother Kim are set to pen the script for the comedy, while Roach is on board to direct.
As for the stars, the mentioned trio of disparate and desperate men is one man short by my count, and with big names like Black and Robbins attached, it'll be very interesting to see who plays the third guy. In the meantime, as THR points out, Black and Robbins have worked together before, as Robbins directed Black in Dead Man Walking, and Robbins got involved in one of Black's Tenacious D ventures, Tenacious D in the Pick of Destiny. So these two guys have some history. With that in mind, I'm going to throw a complete guess out there and suggest that Ben Stiller should be the third guy. Not only does he also appear on Pick of Destiny, but he also shares an Anchorman credit with both Robbins and Jack Black. He and Black were also in Tropic Thunder together. And Jay Roach produced and directed Meet the Parents and Meet the Fockers, which starred Stiller, so there are some little ties that add up enough to make me want to throw his name out there as a not-so-wild guess, even if it's a long-shot. Is it all that impossible? Sure, he's better known for feature work right now, with The Secret Life of Walter Mitty among his recent credits, and he has some other movies lined up, including Night at the Museum 3, but who knows? Maybe he's up for some TV. We'll hopefully find out who's playing the third man soon enough.
In the meantime, while we wait for more casting news on this one, I'll continue to grieve the cancellation of Hello Ladies. Also recently cancelled at HBO was Family Tree. Hopefully The Brink will have better luck with its first season when it airs.
Your Daily Blend of Entertainment News
Thank you for signing up to CinemaBlend. You will receive a verification email shortly.
There was a problem. Please refresh the page and try again.