Tim Roth Developing Bank Robbery Drama With Alexander Cary At FX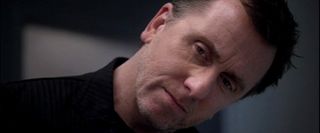 FX has a new project in development that reunites Lie to Me star Tim Roth with co-executive producer and showrunner from the Fox series Alexander Cary. Though there's no title and details on the project are few, the drama has a script commitment and sounds like a pretty wild show: addiction and bank robbery are both named as central to the plot.
Roth will be the star of the new project, says Deadline, and he created it alongside Cary. The drama series is described as being about "addiction, bank robbery and an extremely volatile family dynamic." Well, when you've got addictions and people are robbing banks, things are bound to be a little strained on the home front I would think.
Tim Roth is coming off of three seasons on Lie to Me at Fox, which just got word of cancellation this past week after lackluster ratings the last two seasons. He and showrunner Cary are clearly not sitting around waiting for the job offers to roll in. Roth also has several films coming up, including A Fall From Grace which his just going into production. Pre-Lie to Me British actor Roth was best known for appearances in Reservoir Dogs and Pulp Fiction, and was nominated for an Oscar as Best Supporting Actor for Rob Roy.
Roth's Tarantino film credits certainly seem to set him up well for a family drama involving bank robberies, although even on cable Reservoir Dogs-level ultra-violence won't fly, so I imagine this will be somewhat more tame.