Travel Channel To Air Season Of Disney Special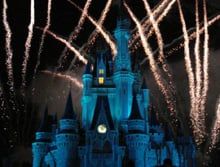 There are a number of things I geek out over. Battlestar Galactica, Buffy and Harry Potter are among them. If someone brings up any of these subjects, I usually have to restrain myself from getting too animated in the conversation. The same applies to a place in Florida that many consider to be the happiest on earth. Yes, I'm referring to Walt Disney World.
I actually love Disney World so much that I have my TiVo set to record anything related to the place. Unfortunately this means that once in a while, I'll see that my "Disney World" wishlist item has been bumped up on my DVR's "Now Playing" list, only to find that Tivo has recorded an old two-part episode of Step By Step or Full House (both sitcoms have featured extra-corny Disney World episodes). But every now and then Tivo comes through for me and I'll actually get one of those great TV specials about Disney World (thanks in large part to The History Channel, The Travel Channel and The Food Network). The problem is, while there are enough specials featuring Disney World to justify the Tivo wishlist item, I've actually seen most of the ones that have aired over the last few years. So it is with great (albeit geeky) pleasure that I report that The Travel Channel is going to be airing a new special called Season of Disney.
What's even better is that the special will be stretched out over a series of episodes and will showcase both Florida's Walt Disney World Resort as well as Anaheim, California's Disneyland Resort.
Season of Disney: Samantha Brown's Favorites - Friday, April 11th at 9:00 p.m. ET/PT – Samantha Brown explores Disney's best year-round attractions. When most people think of Disney, they think of the rides but there's actually some really great food at Disney World as well as amazing shopping opportunities. Brown looks at the rides, food, shopping, characters, shows and parades at Disney World and Disneyland.
Season of Disney: On a Dime - Friday, April 18th at 9:00 p.m. ET/PT – Let's say you watched the Favorites special and it's convinced you that you need to book a trip to Disney World or Disneyland but money's tight and you're not sure you can afford it. In this special, guests use money-saving tips given to them by travel experts to see how well they really work.
Season of Disney: Splurge! - Friday, April 25th at 9:00 p.m. ET/PT – Maybe money's not really an issue or you're one of those people who loves to see how the other half lives. While Disney definitely offers some great deals for guests with a tighter budget, the resorts also feature lavish amenities and activities for people with some real money to spend.
Season of Disney: Royal Treatment - Friday, May 2 at 9:00 p.m. ET/PT. This last Season of Disney special shows off how Disney handles certain special events like onsite weddings and sweet sixteens as well as what its like to be crowned princess for a day.
Disney World and Disneyland are both so much more than just rides and junk food. I mean sure, you'll find plenty of both of those things there but you'll also find great shopping, delicious food and a ton of other things to do in addition to all of the rides, shows and parades. I suppose that's why I love these kinds of Disney-centered specials. Even having been to Disney World a handful of times (and Disneyland, once) in my adult years, I still haven't done everything there is to do.
If you can't wait for the Samantha Brown special to air, check out the Travel Channel's website for her list of favorite Disney attractions by CLICKING HERE. I can't believe she doesn't have Mission: Space on there! EPCOT's Soarin' was definitely fun but after my recent trip to Disney World last December, Mission: Space quickly rose to the top of my all-time favorite Disney World attractions.
Your Daily Blend of Entertainment News
Assistant Managing Editor
Kelly joined CinemaBlend as a freelance TV news writer in 2006 and went on to serve as the site's TV Editor before moving over to other roles on the site. At present, she's an Assistant Managing Editor who spends much of her time brainstorming and editing feature content on the site.