The True Story Behind Let It Go From ABC's Frozen Special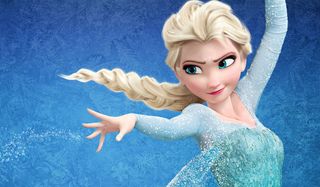 By now, you've almost certainly heard "Let It Go" at least fifty times. If you've seen the movie, you know how well it fits into the action, too, but as it turns out, when the song was actually written, the characters were quite a bit different. In fact, Elsa was a villain, which puts a whole new spin on the song.
Frozen has become a great moneymaker as well as an insta-classic for Disney, and it's no surprise that more than nine months after the film's release, Disney is still finding ways to milk its success. This fall, Frozen characters will appear on the hit series Once Upon a Time, and tonight ABC has put together a special looking at the behind-the-scenes work on Frozen called The Story of Frozen: Making a Disney Animated Classic. If you are excited about tonight's special, Disney has released some promo footage, and surprise!, it looks at the movie's special song, "Let it Go."
While we get plenty of early animations of Elsa during the scene, the "Let it Go" sequence footage is fantastic. First of all, it 'let's us know, let's us know' that Elsa was originally conceived as a villain and was thought of in that manner whenever Robert Lopez and his wife, Kristen Anderson-Lopez, began writing the music for Frozen. They began taking the character of Elsa and thinking of her early isolation and came up with the painful and emotional vamp at the beginning of the song and the rest came together quickly. It only took a day and half to write the whole thing! Maybe that's not unusual for a songwriting duo, but since I don't write music, it seems pretty impressive that a song that garnered so much attention despite being created so quickly.
ABC's The Story of Frozen special should be full of tidbits like these, as well as footage from the original movie and interviews with the cast, crew and Disney Chief Creative Officer John Lasseter. Additionally, ABC is tying The Story of Frozen in with Season 4 of Once Upon A Time, and will be touching on where the Frozen characters will be going within the realm of modern-day Storybrooke. If you are excited about the Once Upon a Time appearances, ABC has also done a great job of teasing the new season via a brand new trailer and plenty of other footage.
I'm not sure if six months ago I would have realized that Frozen would become such an apparent and important part of the upcoming TV season, but I guess I shouldn't be surprised. Disney has gone out of its way to find other applications for the hit Arendelle characters, including putting together sequels to the movie in book form. There's also an "ice spectacular" in the works and a Broadway show is not out of the question. It's clear Frozen's popularity warranted tonight's TV special, and now all ABC has to do is sit back and hope the ratings pan out. The Story of Frozen: Making A Disney Animated Classic will air on ABC tonight at 8 p.m. ET.
Amazing Race & Top Chef superfan with a pinch of Disney fairy dust thrown in. If you've created a rom-com I've probably watched it.
Your Daily Blend of Entertainment News
Thank you for signing up to CinemaBlend. You will receive a verification email shortly.
There was a problem. Please refresh the page and try again.