The Twilight Zone Marathon To Air On Syfy On July 4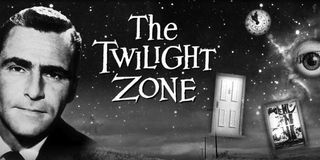 What better way to spend the Fourth of July than on the couch watching The Twilight Zone all day? Ok, there might actually be better ways to spend the national holiday, what with the fireworks, pool parties and barbecues, but those who prefer a shadier setting might consider tuning the TV to Syfy for their annual full-day Twilight Zone marathon.
Syfy confirmed today that they'll be taking viewers into another dimension ("a dimension of sound, a dimension of sight, a dimension of mind…") for their traditional The Twilight Zone marathon, which will kick off Wednesday, July 4 at 8:00 a.m. and run all the way through 6:00 a.m. on July 5th. Syfy doesn't list which episodes have been selected to air throughout the marathon, but they do say that the fan-favorite episodes will air during primetime. I'm going to go out on a limb and guess that "To Serve Man" will be in there. I'm also a big fan "Time Enough at Last" (about the bank teller who loves to read who survives an H-Bomb blast).
You may be saying to yourself, "But I have Netflix!" or "I have The Twilight Zone: The Complete Definitive Collection on DVD! I can head into the Twilight Zone with Rod Sterling any old time I want." Well, bully for you! You're a true fan. But allow me to defer to the argument I made when IFC announced their Arrested Development marathon ahead of Netflix's Season 4 debut. As great as it is to plow through episode-after-episode of a beloved show, commercial free, there's still something to be said for turning to a certain channel and letting a marathon run on auto-pilot throughout the day. Maybe you watch every episode, or maybe you're busy with other things and it's on in the background. But it's there… like A Christmas Story on TBS on Christmas Eve. It's there enhancing the atmosphere for all to enjoy.
Your Daily Blend of Entertainment News
Thank you for signing up to CinemaBlend. You will receive a verification email shortly.
There was a problem. Please refresh the page and try again.