The Twin Peaks Reboot Is Definitely Happening With David Lynch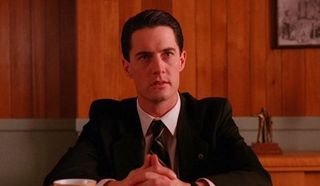 Well Twin Peaks fans, that was a close call. When reports circulated a while back that there was a dispute between David Lynch and Showtime, and the driving force behind the series had left the new episodes, we all got bummed. But today we can rejoice, as the maverick filmmaker has rejoined the fray, and we're getting even more episodes than we originally thought.
Lynch took to Twitter to make the announcement just a little while ago, writing:
Co-creator Mark Frost sent out the exact same message at the exact same time, just in case anyone missed it:
While Lynch reportedly parted ways with Showtime over budget fights with the cable network, everyone was still hopeful any issues would ultimately be resolved. After all, it wouldn't be Twin Peaks without Lynch's signature strangeness involved. And now, after a bunch of nervous hand wringing and fretting on the part of fans, it has come to pass. We don't know the specifics, but we don't really care, as just having Lynch back on board is enough to fill us with hope, albeit a weird, foreboding, Twin Peaks style hope.
And not only is Lynch once again going to direct all of the episodes, which he wrote with Frost, there are going to even more than the originally announced nine. Showtime president David Nivens released a statement that said:
You have to wonder if maybe, just maybe, the schism between Lynch and the network had something to do with him wanting more time. That's just speculation, but it's something to chew on while your drinking your damn fine cup of coffee. New episodes of Twin Peaks hit Showtime in 2016.
The new episodes aren't a remake or reboot, but are direct descendents of the original run. Set in the present day, they pick up 25 years after the end of season two (2016 marks the 25 annivesary of the 1991 cancellation), with the community still reeling from Laura Palmer's shocking death, which kicked off the whole shebang. Kyle MacLachlan is coming back to reprise his role as Dale Cooper, apparenlty still searching for answers, and before we get to the new episodes, Frost wrote a tie-in book called The Secret Lives of Twin Peaks, which will shed some light on what the characters have been up to over the last quarter century. We can't wait.
Your Daily Blend of Entertainment News
Your Daily Blend of Entertainment News
Thank you for signing up to CinemaBlend. You will receive a verification email shortly.
There was a problem. Please refresh the page and try again.