Two And A Half Men Renewal Announcement Expected Soon, Ashton Kutcher Deal On Track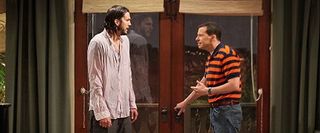 Things are looking good for another season of Two and a Half Men, and for the return of the star who replaced Charlie Sheen this past season, Ashton Kutcher. A new deal for Kutcher is in the works, and it sounds like things are on track. Unlike in past seasons when things have gone down to the last minute, this year it looks like the renewal announcement will be along soon.
Two and a Half Men had something to prove this year, with Sheen's very public departure from the show leaving its future in question. No one was quite sure if the show could survive the departure of an anchoring character, but kill him off they did, and along came Kutcher. Next season, the show will have even more to prove, especially if Sheen's return to television turns out to be a successful one when Anger Management hits the air this summer. At least it looks good for Kutcher to sign on for another year, and for the show itself to see a renewal announcement soon, Deadline says. It does look like it's going to cost them to keep Kutcher on board. Kutcher, who says he's "having a good time" doing the show, will be really having a blast should his per-episode pay pass the $1 million mark as it's expected to when the deal is finalized.
So with Two and a Half Men expecting a renewal announcement in the next few weeks, eyes will be turning back towards Sheen and his new series. And we'll have the summer to wait and wonder if Men can come back strong, or whether this next year might spell the end.
Your Daily Blend of Entertainment News
Your Daily Blend of Entertainment News
Thank you for signing up to CinemaBlend. You will receive a verification email shortly.
There was a problem. Please refresh the page and try again.