Tyler Labine Cast In CBS Pilot With Jason Biggs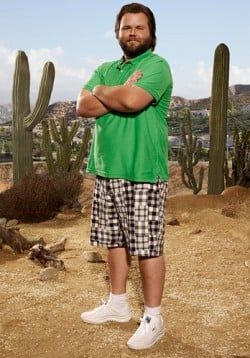 While it's in the second position behind Sons of Tucson, I'm kind of rooting for Tyler Labine's new pilot project. He's been cast to replace Dan Fogler as fellow lawyer and friend to Jason Biggs' character. Tucson, after a promising pilot, hasn't lived up to its potential.
But Labine has been very good in three shows in a row now, from Invasion to Reaper to Sons. However, he's always played the same kind of slacker schlub in each of them, so it would be a lot of fun to see him bring his manic energy to a lawyer. I'd love to see what kind of technique he'd bring to the courtroom.
The CBS pilot, called True Love, is the story of Henry (Biggs), who falls for a total stranger, played by Minka Kelly (Friday Night Lights), while already in a committed relationship. Labine's character doesn't believe in love, which means there will be strong elements of the Sock persona he perfected on the short-lived Reaper.
I hate rooting for a show to get canceled, though this wouldn't be the first time. I wanted Brothers to fail so CCH Pounder would be more available for Syfy's Warehouse 13. I see a lot of comedic potential in Biggs and Labine working side by side. I guess we'll just have to wait and see how this one plays out.
Your Daily Blend of Entertainment News
Your Daily Blend of Entertainment News
Thank you for signing up to CinemaBlend. You will receive a verification email shortly.
There was a problem. Please refresh the page and try again.