Uncle Buck Remake Has Been Picked Up To Series By ABC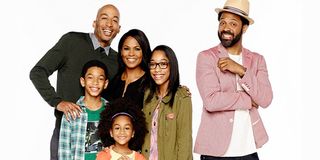 It appears that ABC's upcoming remake reinvention of Uncle Buck will be sticking around for a length of time necessitating the drying of more than one load of laundry in the microwave. The recently ordered TV pilot starring Mike Epps as the niece and nephew-raising ne'er-do-well has been given its official series pickup.
According to a report from Deadline, ABC's Uncle Buck pickup could see the show targeted for a premiere during the mid-season. The series will be a joint, co-producing venture between ABC and Universal TV, who had originally conceived the project. The new show will take key concepts from the classic, widely treasured 1989 original Uncle Buck film starring John Candy and directed by John Hughes, altering the plot, contextually. The series will distinguish itself by changing things up dramatically in not only the ethnicity of the family, using a black cast, but also in terms of reinventing the premise of the film slightly to accommodate the series format.
Mike Epps' version of the show's titular Buck Russell will depict the character as a fun-loving but irresponsible guy in need of a place to live. Fortuitously, the nanny of his brother's three children just quit, so he takes up an offer to move in and do the whole Full House-type thing. The show will also star Nia Long, James Lesure, Iman Benson, Aalyrah Caldwell and Sayeed Shahidi. Writers formerly of Madtv, Steven Cragg and Brian Bradley will script the show and it will be headed by executive producer, Will Packer, the man responsible for Kevin Hart cinematic vehicles, The Wedding Ringer, Ride Along and Think Like a Man.
The prospect of remaking a beloved 80s classic might seem like an innocuous proposal; especially since there actually already was a failed TV rendition back in 1990 starring comedian, Kevin Meaney. However, it seems that this particular venture became mired in controversy upon its initial announcement last year. The families of both John Candy, who passed away in 1994, and John Hughes, who passed away in 2009, jointly made their displeasure with the project known, pointing to not only the lack of decorum in failing to contact their respective estates, but also implying that the late duo would not have approved of the endeavor. Of course, while there were no legal consequences to a simple public expression of grievances, the perception of tarnished legacies can sometimes be equally as potent.
However, given ABC's order for the series, it appears that the pilot that was ordered a few months back went off smoother than hypothetical advice to malicious schoolmarms to have rodents gnaw off facial warts. (Seriously, if you haven't, seen the movie, do it already.) With ABC finding success in the family sitcom arena with Black-ish, The Goldbergs, Modern Family and more, this update on Uncle Buck could serve as the perfect accompaniment, while brandishing a name that resonates across several demographics, thanks to the classic film.
At the end of the day, updating this legendary cinematic collaboration between two gone-too-soon talents like John Hughes and John Candy might seem like an offensive cash-in calamity. Yet, it could be argued that the work of Candy and Hughes on that magnificent movie created an indelible branding under which this new series will exist, adhering to and venerating the clearly identifiable attributes of the work they created. Let's just hope that's the case.
Photo Credit@ABC
Your Daily Blend of Entertainment News
Your Daily Blend of Entertainment News
Thank you for signing up to CinemaBlend. You will receive a verification email shortly.
There was a problem. Please refresh the page and try again.