Under The Dome Casts Grace Victoria Cox For Season 2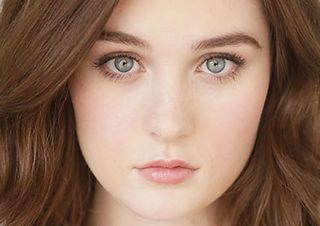 At this point, it's probably fair to say that if you're a Stephen King fan who read Under the Dome, you're about as in-the-dark about what's coming up on the CBS series as any other viewer anticipating the show's second season. The small screen adaptation has already deviated so much from the source material in terms of character development and story that even the dome seems to be playing by its own TV-land rules. So this latest bit of casting comes without any nods to the source material, as I don't recall there being any Melanie in King's book.
THR says newcomer Grace Victoria Cox has signed on to play the recurring role of 18-year-old Melanie, who's described as "lithe, mysterious, beautiful and almost regal." Apparently, she'll be burying up with Colin Ford's character Joe. "Poised and ethereal, Melanie is from the right side of the tracks and is a clear contrast to Norrie." Interesting.
Unless I'm completely forgetting a character named Melanie, or a mysterious right-side-of-the-tracks teen who befriends Joe, she's not a book character, and it's probably fair to say we should eye her warily, as would be the case for just about anyone who's introduced to the story in the second season. Not everyone in Chesters Mill has proven to be all that trustworthy.
In terms of introducing new characters to an environment that's isolating a specific location, Under the Dome will probably need to tread very carefully. On one hand, with the whole dome-covered town at their disposal, it's reasonable to think that we haven't "met" every single person that's in Chesters Mill. But on the other hand, if you've seen Lost then you're already familiar with Nikki-and-Paolo syndrome: a strong negative reaction to randomly new characters -- especially really pretty ones -- whom the writers have conjured up and inserted into an established ensemble partway through the series in the hopes that viewers will accept them into the fold as though they were there the whole time. Viewers did not accept Nikki and Paolo, and those two were eventually written off... with a pretty disturbing sendoff, I might add.
I'm not saying young Melanie or any other new character to the series is automatically a Nikki or a Paolo, but given the nature of the series, which has a setting not unlike an island when you factor in the dome that's keeping everyone stuck there and cut off from the world, and the supernatural/sci-fi-ish nature of the things that are happening in the story, not to mention Lost's Brian K. Vaughan's involvement in developing the series, it wouldn't be all that hard to draw some loose parallels.
The above said, it's only Season 2, and since a couple of characters didn't make it out of the first season, there are certainly some vacancies for newcomers and new drama. And I can't complain much about the way the series has shifted away from the source material, partially because I'm more a fan of the characters and the concept of King's book than I was in the direction the story took toward the end. And partially because I think it's more fun to watch a TV show when you don't already know everything that's going to happen. So it'll be exciting to get to know Melanie and see how she fits into this complicated story.
CBS has already set the date for Under the Dome's return as Monday, June 30 at 10:00 p.m. Stephen King is writing the first episode of Season 2.
Assistant Managing Editor
Kelly joined CinemaBlend as a freelance TV news writer in 2006 and went on to serve as the site's TV Editor before moving over to other roles on the site. At present, she's an Assistant Managing Editor who spends much of her time brainstorming and editing feature content on the site.
Your Daily Blend of Entertainment News
Thank you for signing up to CinemaBlend. You will receive a verification email shortly.
There was a problem. Please refresh the page and try again.