Utah's KSL Ships The Playboy Club Off To Side Channel, Anti-Porn Groups Unappeased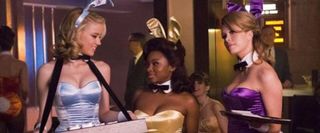 It seems as if Amber Heard's move from a naked chick in The Informers to a scantily clad chick in The Playboy Club this fall is actually a step in the right direction. This argument apparently wasn't enough to appease Utah's NBC affiliate KSL, when they decided to ban the program on the network, citing "complete inconsistency" with what they stand for as a means to the end. Luckily, the ban stands no longer, as KMYU-TV, the MyNetworkTV station in Salt Lake City, has opted to pick up The Playboy Club.
Unfortunately for The Playboy Club, a resolution in Utah doesn't end the debate. Now, XBIZ is reporting that two anti-porn groups, Pink Cross and Morality in Media, are all up in arms. Shelly Lubben, founder of Pink Cross has gone so far as to say:
Okay, ex-porn star Shelly Lubben. First of all, where is this information coming from? The Playboy Club doesn't air until fall, and if I remember correctly, a bathroom shot is not part of the preview. If you are getting advanced screenings of the show, everyone should be getting advanced screenings. Secondly, just because you decided porn wasn't for you doesn't mean you get to bloviate all over my network television. Again, network. As in, "lacking in nudity."
Besides, Deadline is reporting that KSL was the only NBC affiliate to turn down the show, and as such, it seems to prove most people aren't really up in arms over what seems to be a moderately tame program depicting the Chicago Playboy Club in the early '60s. What people should be worried about is what NBC affiliate KSL will decide to play in the hour-long gap left in lieu of The Playboy Club. It could be something cool, like back-to-back reruns of Jeopardy from the '80s, but what if Utah continually plays episodes of The Rerun Show?
Your Daily Blend of Entertainment News