The Voice Forced To Briefly Halt Production After Boy George Claims He Had Sex With Prince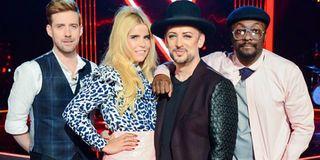 I'm sure that Culture Club singer Boy George has said a lot of notable things in his time in the spotlight, and many of those things have probably been attention grabbing. Well, now, he's done it again. He had something interesting to say about another music legend while taping the UK version of The Voice that's made a lot of waves.
The Sun reported on Boy George's surprising conversation with his co-judge Paloma Faith during a taping in front of a live audience, so you can imagine what happened next. The. Crowd. Went. Wild. Even though Mr. George started off nice and easy by mentioning soul legends Luther Vandross and Smokey Robinson, he was clearly determined not to be bested by Faith's mention of working with The Purple One himself, pop/soul/rock legend Prince. And his desire to win this particular battle of words (though I doubt Faith knew where this talk would lead), is truly admirable.
The judges, who also include Will.i.am and lead singer Ricky Wilson of the rock group Kaiser Chiefs, were all competing to convince an auditioning singer to join their team. Each judge was bragging about how much street cred they had because of the well-known and loved artists they'd worked with. I do suppose some people would count having sex with someone as participating in a kind of "work" with them. Wouldn't they? I also suppose it would depend on the quality… Oh, no. I've already gone too far down this rabbit hole.
Well, after that little tidbit slipped from Boy George's mouth, things in the theater were pretty hard to control. The audience lost their minds and so did the other judges. Will.i.am even left his rotating judge throne to give his props to George in the form of a few high fives. Things got out of control pretty quickly, and the producers actually had to cease taping to get everyone to just calm the hell down. Said producers eventually felt the need to confront the audience by taking to the stage and telling those assembled to take it down a notch since they'd all had ample time to digest the celebrity bombshell.
To try and help to regain the audience's undivided attention so taping could once again commence, Boy George then backtracked and said the act never really happened. That was nice of him, after nearly causing a The Voice themed riot. I'm not sure this is true, though. It's exactly the type of thing that celebrity gossipers (and me, actually) imagine happens with famous people all the time. Honestly, if they're not doing all the things we'd never do (since most of us will never come anywhere close to having sex with Prince) what are they even good for?
Bachelor Nation, Gilmore Girl; will Vulcan nerve pinch pretty much anyone if prompted with cheese...Yes, even Jamie Fraser.
Your Daily Blend of Entertainment News
Thank you for signing up to CinemaBlend. You will receive a verification email shortly.
There was a problem. Please refresh the page and try again.