Wal-Mart Making Family-Friendly TV Movies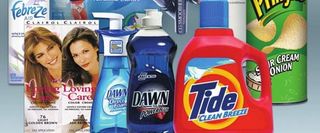 Over a decade after Hallmark capitalized on a wave of made-for-television movies—remember What The Deaf Man Heard, and the Jennifer Garner classic Rose Hill?—another big company has figured out they can promote their brand through made-for TV movies. This time the company is Proctor and Gamble, and this time they have the help of corporate giant Walmart to bring films into family homes via NBC, who has no creative input on the partnership's current project.
If you're a well-versed TV watcher, or an avid NBC fan, you may remember any or all of the first three films from the corporations. The first was 2010's Secrets Of The Mountain, which aired last spring. The other two films, Jenson and (Walk)In My Shoes aired this past summer and this past winter break, respectively. To view ratings stats for these films, head over to Deadline. All of the films focus on family-friendly fare and the promotion of good moral choices. So, they are basically like Disney original movies with some adult characters and sans a plethora of toy commercials. In place, I'm sure there will be plenty of Proctor and Gamble commercials, though.
If family morals is your thing, the fourth film in the series, titled Magic Eye, will be released to audiences on June 11. The plot will surround a football star named Tyler whose life is changed by a bullied kid named Cory. Tyler's little sister's life changes too, after she finds a magical camera that might unlock secrets from Cory's past. Magic? Football? A mysterious kid? This film will have anything and everything your family might want this summer. Or you could totally just re-watch How To Train Your Dragon.
Your Daily Blend of Entertainment News