The Walking Dead Gets Series Commitment From AMC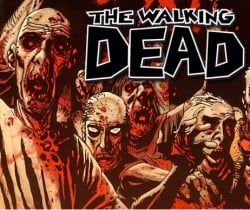 It's alive! Well, technically "undead" is the more appropriate term. Regardless, AMC has ordered to series The Walking Dead, based on the ongoing zombie apocalypse comic book series by Robert Kirkman, as reported by Inside TV. Considering the level of quality AMC brings to both Breaking Bad and Mad Men, fans couldn't be more excited.
Billed as a zombie movie that never ends, The Walking Dead has been a huge hit for Kirkman and the comic book industry. Dark and grim, it would mark the first time an American television network has picked up an ongoing zombie-based series, and they couldn't have found better source material.
To strengthen things even more, Oscar-nominated writer and director Frank Darabont (The Shawshank Redemption, The Green Mile) has signed on as an executive producer, and agreed to direct the pilot. Casting is incomplete on the series, with only Jon Bernthal confirmed in the role of Shane, friend and fellow officer to series lead Rick. Regardless of what comes next, fans have incredible faith that AMC will make a series they can be proud of.
Your Daily Blend of Entertainment News
Your Daily Blend of Entertainment News
Thank you for signing up to CinemaBlend. You will receive a verification email shortly.
There was a problem. Please refresh the page and try again.