Warehouse 13 Expanding To Twenty Episodes Next Season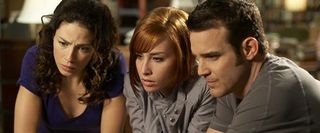 Good news if you're a fan of Pete, Myka, Artie, Claudia, and the rest of the Warehouse 13 gang: Syfy has announced that they will be expanding the show's fourth season by seven episodes, bringing the season total to 20. That's just two eps short of a standard network season of 22 episodes, which is unusual for the cable landscape. It's a definite show of confidence in Warehouse 13, which regularly draws in 2 million viewers, thus proving that Syfy's audience does in fact want to watch things other than people hunting ghosts. Original, scripted content with SF elements doing well on Syfy -- who'd a thunk?
The news comes from Deadline, who also remind us that Syfy gave the show an early renewal for its fourth season back in August. It's unclear why they didn't just make the full 20-episode order then. Maybe Warehouse 13's continued solid performance during the fall earned them the bonus. Maybe Syfy isn't super confident in its upcoming line-up and wants to double down on a proven success. Maybe one of the network execs found a bunch of money in the cushions of the couch in his office. Regardless of the reason, I'm not about to look the gift of seven more episodes of Joanne Kelly and Allison Scagliotti in the mouth. Wait, that just sounds wrong...
Warehouse 13 recently wrapped up its third season with a Christmas episode that aired last December 6th. The fourth season should arrive sometime next summer on Syfy.
Your Daily Blend of Entertainment News
Your Daily Blend of Entertainment News
Thank you for signing up to CinemaBlend. You will receive a verification email shortly.
There was a problem. Please refresh the page and try again.