Watch Amy Schumer's Hilarious Opening Monologue On Saturday Night Live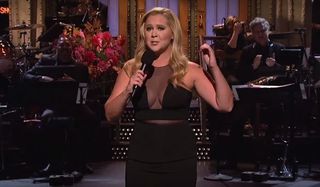 Amy Schumer hosted Saturday Night Live for the first time ever last night and – as we all should have expected – she killed it. As is often the case with comedians who host the show, she decided to use her monologue to deliver a stand-up set. Check it out below for yourself.
In typical Amy Schumer fashion, the style of the monologue comes both fast and abrasive. Starting off by expressing some genuine excitement and gratitude for the opportunity to host the show, Schumer moves on to discuss the state of affairs for women in Hollywood. She talks about the Kardashians, calling them "a whole family of women who take the faces they were born with as a light suggestion" and how Khloe's weight loss made her less relatable than she had once been. She then moves on to the subject of giving her 18-month old niece a bath – and the difficulties associated with washing certain areas of her body. This was followed by Schumer's experiences hanging out with Hillary Clinton – whose friends apparently haze her with tequila – and Bradley Cooper – whom Schumer clearly has an infatuation with.
No amount of summarization can really capture the beauty of Schumer's stand up style. In recent years she has taken some serious strides in leveling the gender playing field in the world of comedy. She seems to accomplish this by joking about things that appeal to a woman's point of view, but doing it in a way that all members of the audience can identify and laugh with. In both her stand-up, as well as her show Inside Amy Schumer, the comedian most certainly veers towards blue humor, but uses it in a genuine way that never truly feels like it's being used for shock value.
Aside from the monologue, she also partook in sketches that tackled subjects ranging from schoolteacher porn to gun control. That last topic that has become particularly relevant to Schumer in recent months after the tragic shooting during a showing of her film Trainwreck.
Schumer joins a long line of stand-up comedians who have thrived on the SNL stage over the years, such as Steve Martin, Chris Rock, Louis C.K. and Kevin Hart. Despite the fact that this was her first time hosting the late night sketch show, she performed admirably. It seems that she didn't even need to tell the audience that she was friends with Kevin Hart in order to win them over – they already loved her enough. If you're a fan of Schumer's crass yet wholeheartedly honest form of comedy, definitely check out the video above.
Originally from Connecticut, Conner grew up in San Diego and graduated from Chapman University in 2014. He now lives in Los Angeles working in and around the entertainment industry and can mostly be found binging horror movies and chugging coffee.
Your Daily Blend of Entertainment News
Thank you for signing up to CinemaBlend. You will receive a verification email shortly.
There was a problem. Please refresh the page and try again.