Watch Miss Colombia Confront Steve Harvey About The Miss Universe Nightmare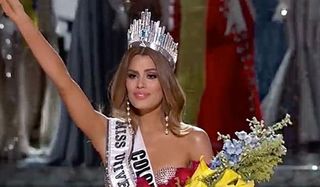 Just when we were beginning to think that it might be going away, the 2015 Miss Universe nightmare added another wrinkle. The memory of host Steve Harvey accidentally crowning Miss Colombia as Miss Universe when she was in fact only the runner-up doesn't seem to be fading anytime soon. Miss Colombia and Steve Harvey themselves were the latest to bring up the flub when she appeared on Harvey's daytime talk show. Although Miss Colombia was mostly amiable throughout the interview, there was certainly some confrontation to her tone. Check it out!
It was a bold move for Miss Colombia – also known as Ariadna Gutierrez outside of the pageant circuit – to appear on The Steve Harvey Show at all. The gaffe at the Miss Universe event didn't occur so very long ago that the sting would just be all gone. Gutierrez did show the grace of a Miss Universe when she appeared on Harvey's show and acted in good humor, but we can't begrudge her bitterness at finding out she was actually runner-up. With that said, it's easy to see why she bluntly blurted out comments about Harvey needing to learn to read cards.
There aren't too many aspects of the job that a pageant host absolutely has to get right lest the entire event be a disaster, but announcing the correct winner at the end is definitely one of them. Harvey mistakenly announcing Miss Colombia as the winner was bad enough; that it took him a couple of minutes to realize that Miss Philippines was the actual winner and then had the former Miss Universe strip Miss Colombia of her crown was pretty awful. Honestly, it's surprising that Steve Harvey is still a likely candidate for the hosting gig again in the future.
Watching the evolution of Miss Colombia's remarks about the accidental crowning has been interesting. While she originally responded with more tact, she shortly thereafter changed her tune to reveal that she was actually pretty mad that all of her dreams didn't really come true and she'd been forced to give up the crown in front of a crowd.
Still, good for her that she's been able to rise above her early feelings of humiliation to ride the tide of her fame for as long as it can last. There aren't many Miss Universe contestants who stay in the limelight after a loss, so Gutierrez making the most of her situation and coming onto Harvey's show to mostly laugh off the debacle is a smart move to prolong her fifteen minutes of fame. Confrontational tone for a few of her comments in the clip from The Steve Harvey Show aside, she was a charming and funny guest whose appearance is definitely worth a re-watch or two.
Resident of One Chicago, Bachelor Nation, and Cleveland. Has opinions about crossovers, Star Wars, and superheroes. Will not time travel.
Your Daily Blend of Entertainment News
Thank you for signing up to CinemaBlend. You will receive a verification email shortly.
There was a problem. Please refresh the page and try again.