Turns Out Miss Colombia Is Actually Mad About The Miss Universe Debacle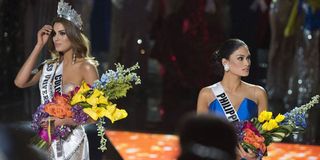 We're more than a week out from Steve Harvey's memorable Miss Universe 2015 gaffe at this point. Both Miss Colombia—aka Ariadna Gutierrez—and Miss Universe Pia Alonzo Wurtzbach have spoken out in a graceful manner about what happened, but as it turns out, Miss Colombia isn't feeling so graceful anymore. In a recent radio interview, she turned on the Miss Universe experience, stating that she harbors some angry feelings related to the pageant these days.
I guess you can only play the graceful beauty queen for so long before your true feelings emerge. About a week ago, Gutierrez commented that everything happens for a reason and that "life goes on." She also congratulated Miss Philippines on her actual pageant win. However, while she may not harbor any ill feelings towards Pia Alonzo Wurtzbach, it's clear that even if she does believe in destiny, she's still more than a little miffed about what happened.
While talking with Colombia's Spanish-language W Radio (via LatinTimes), Ariadna Gutierrez also admits that when she was first onstage, she thought the whole thing was actually just Steve Harvey messing around and trying to be funny.
Obviously, Harvey's announcement of the wrong winner was a flub and not a joke. Equally as obviously, Gutierrez doesn't find it to be a laughing matter. If you've watched the clip, which shows Gutierrez getting crowned and wearing the sash for a full two minutes before Steve Harvey returns to the stage and admits he read the card wrong, you may not find it all that funny, either.
Clearly Ariadna Gutierrez got screwed during the Miss Universe 2015 pageant. You'd be hard-pressed to find anyone who could aptly argue against that. Still, now that we are nearly two weeks out, it's odd that Miss Gutierrez would change her tune. Most people felt she was cool and classy when she made her first statements on social media, and since bygones already seem to be bygones, it's odd she'd play the upset victim card at this point. At this point, it's in everyone's best interest just to laugh the whole thing off.
Amazing Race & Top Chef superfan with a pinch of Disney fairy dust thrown in. If you've created a rom-com I've probably watched it.