Watch Steve Harvey Get Burned In Effigy In Colombia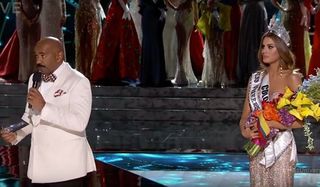 Hell hath no fury like a Colombian scorned. After Miss Colombia was given the crown and the sash at this year's Miss Universe 2015 event only to have it stripped from her a few minutes later, Colombians (and Miss Colombia herself) were none too happy about how the event transpired. Case in point, during this year's New Year's Eve celebrations, many Colombians burnt effigies to ward off bad luck, per usual, only many of this year's effigies featured the face of Miss Universe host Steve Harvey. You can take a look at one such effigy getting blown up, below.
Early in the video, we get a shot of the Steve Harvey doll that is about to see its demise. There's plenty of revelry going on in the background for several minutes as those set to burn the effigy set up the momentous occasion, rolling out a detonating cord. If you want to just skip to the, err, fireworks, you can head to the 2:15 second mark or just check out our glorious gif of the event.
Steve Harvey isn't the only pop culture figure who is getting that sort of treatment this year. Pia Alonzo Wurtzbach, who ultimately won the Miss Universe 2015 crown over Colombia's Ariadna Guteirrez, also had effigies made out of her, according to various social media pages that have also featured similar video and picture footage of Steve Harvey and Miss Phillipines effigies getting burnt. The footage of each of these burnings isn't the best quality, but it does give you an idea regarding the feelings of people who are wishing for better luck in their country this coming year.
The burning of the effigies is called año viejo and the burning occurs in the attempt to ward off bad luck, so it's not as if this act is uncommon. However, it's pretty amusing that the country was so affected as a whole by the Miss Universe debacle that the "bad luck" they want to ward off is related to the famous beauty pageant flub. Unfortunately, it looks as if Colombians and viewers around the world might have to hold their breaths a bit while watching next year's pageant, as well. After all, we've reported that the Miss Universe pageant loves Steve Harvey and the now-famous host is likely to host the next pageant and more. If he does return, I hope he practices reading off the cue card next time.
Reality TV fan with a pinch of Disney fairy dust thrown in. Theme park junkie. If you've created a rom-com I've probably watched it.
Your Daily Blend of Entertainment News
Thank you for signing up to CinemaBlend. You will receive a verification email shortly.
There was a problem. Please refresh the page and try again.