Watch Seth Rogen And Snoop Dogg Recap Game Of Thrones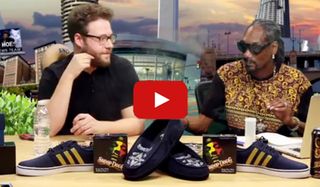 Warning: The video below features plenty of pot and f-bombs and is thusly NSFW. Luckily, it's Memorial Day, so if you have some free computer time, give it a shot.
In lieu of a brand new episode of HBO's Game of Thrones, we are bringing you a GGN News update featuring movie star Seth Rogen and Snoop Dogg. The two men spent some time together last week in order to recap Game of Thrones and the results are pretty hilarious. If you want to hear about Tyrion, the Unsullied, Littlefinger and more from the mouths of two stoned gentlemen, you've come to the right place.
Snoop Dogg has always been the type of dude who will say whatever he wants, and he's pretty lacking in political correctness, here. Luckily, he's talking about characters on a show set in a different realm, so we'll give him a pass. That said, he and Seth Rogen talk about their love for Game of Thrones before launching into a tirade about Tyrion's recent woes on HBO's series, which include getting framed for the murder of a king and nearly having to fight Gregor Clegane, otherwise known as "The Mountain." Or in Snoop Dogg's words, "So, now he's gonna have to fight this big ass, gigantic motherf*cker." Exactly, Snoop.
If you want to hear Snoop use a British accent to discuss "Petyr" or you want to hear the guys debate about the Unsullied and what makes them unsullied, you've come to the right place. However, if you are looking for a thoughtful, unambiguous round-up of last week's episode, you should really go ahead and hop over to our actual recap. As hilarious as Snoop and Rogen are, Game of Thrones experts they are not.
Still, it seems they feel they are up to the task. Rogen even humorously mentions at one point that HBO should pay the two men to host a recap at the beginning of each episode. While that's wishful thinking, I still say giving this particular recap a watch is worth it, especially since we have to wait a whole week for new HBO content to waft our way. Additionally, there are a few nice little details to enjoy about Rogen and Snoop's recap that you won't get anywhere else, including discussion questions scrolling across the bottom of the screen and a funny segment featuring shots of Lysa's death set to the tune of "Move B*tch (Get out the Way)."
Game of Thrones creators David Benioff and D. B. Weiss better be listening up, because according to Rogen and Snoop, they'd be more than happy to pop up on a series like GOT. Rogen seems game for anything, and I could see him pop up as Coldhands or some equally weird character. Snoop would be a little harder to cast, considering he's demanding to play a king of some sort in the video. Clearly he hasn't been paying attention to what happens to those who claim to be king…
Hopefully, this video has been enough to tide you over. If not, HBO's Game of Thrones will be back before you know it. Game of Thrones airs Sunday nights at 9 p.m. ET.
Amazing Race & Top Chef superfan with a pinch of Disney fairy dust thrown in. If you've created a rom-com I've probably watched it.
Your Daily Blend of Entertainment News
Thank you for signing up to CinemaBlend. You will receive a verification email shortly.
There was a problem. Please refresh the page and try again.