Watch This Weatherman Flawlessly Pronounce The Most Complex Name Ever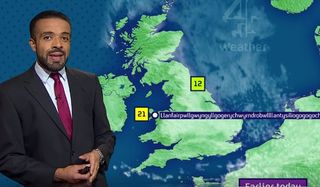 Pronouncing any word that is longer than 15 characters can be a challenge, but recently a weatherman for Channel 4 news absolutely crushed out the pronunciation for the Welsh town of Llanfairpwllgwyngyllgogerychwyrndrobwllllantysiliogogogoch, known locally as Llanfairpwll. The name comes in at a whopping 58 characters and, while not the longest in the world, it is the longest recognized place name in the United Kingdom and it's made more complex by Welsh pronunciation. You have to hear it to believe it, and you can check out Liam Dutton's flawless pronunciation, below.
The town only features a little over 3,000 inhabitants, so as you can imagine, there's not often a reason for Llanfairpwllgwyngyllgogerychwyrndrobwllllantysiliogogogoch to actually make it into the news. The reason the town landed on Channel 4 this time was weather-related, with Dutton reporting that the town was privy to some lovely weather at 70 degrees Fahrenheit or 21 degrees Celsius. Man, I wish that was the weather most of the United States was having right now. No excessive heat warnings for you, Llanfairpwllgwyngyllgogerychwyrndrobwllllantysiliogogogoch.
I like this Dutton guy's pronunciation because he doesn't have to rely on gimmicks (or Taylor Swift references) to grab our attention. Instead, he's smooth, he's polished and he throws out that wildly long and incredibly difficult to pronounce Welsh word without batting an eyelash. I'm not sure if the man practiced the name ahead of time or if he's just that good, but I'd like to hope it's the latter.
Even better news, the internet is full of wonderful things, and there is a song to teach you how to pronounce Llanfairpwllgwyngyllgogerychwyrndrobwllllantysiliogogogoch like a pro, and it's catchy to boot.
It's unusual for the news to gain praise for doing something well. More often, videos go viral when anchors make small children cry, crack cornball jokes or even when the production team accidentally airs the wrong footage, often if that footage is explicit. It's kind of a nice change of pace to see a clip get traction for crushing something out rather than making a mistake.
Check in next week when we bring you some news from the world's hottest city, Krung­thep­maha­nakorn­amorn­ratana­kosin­mahintar­ayutthay­amaha­dilok­phop­noppa­ratrajathani­burirom­udom­rajaniwes­mahasat­harn­amorn­phimarn­avatarn­sathit­sakkattiya­visanukamprasit. Just kidding, I literally hope I never have to type that city name ever again.
For more fun local news clips, head here.
Reality TV fan with a pinch of Disney fairy dust thrown in. Theme park junkie. If you've created a rom-com I've probably watched it.
Your Daily Blend of Entertainment News
Thank you for signing up to CinemaBlend. You will receive a verification email shortly.
There was a problem. Please refresh the page and try again.