Watch What Happens When J.J. Abrams Accidentally Sends Seth Meyers A Real Lightsaber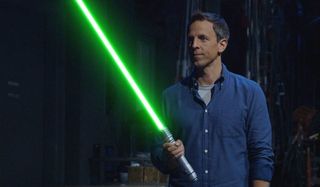 What do you think would happen if J.J. Abrams sent a real life lightsaber to a life-long fan of the Star Wars franchise? Would that person have the Jedi-esque discipline to use the ancient weapon to protect the innocent, or would their childish dreams inevitably get in the way and lead them to have as much fun as possible? Well, according to Late Night with Seth Meyers, it goes exactly how you might think it would.
The NBC late night show recently released this short film chronicling the host's adventure with the traditional Jedi weapon. As you can expect, while Seth certainly has the best intentions to use a real lightsaber responsibly, that quickly gives way to him having as much fun as possible. As soon as he presses the button on the hilt and turns it on, he begins to terrorize items all around his work space. In the midst of destroying his office, he soon finds himself joined by Late Night writer John Lutz, and the two soon find out that Abrams sent them an actual lightsaber by mistake, intending to send him another of the many plastic ones he already owns.
This does little to deter the comedians as they go on a rampage through the building, destroying everything in their path – from sandwiches, to shelves, to pickle jars. Eventually, Meyers comes face to face with fellow SNL alumni Andy Samberg – who also was sent a real lightsaber by accident (only this one is red) – and the two engage in a duel – with some elements of Mel Brooks' Spaceballs – we can only assume the two comedians have waited their whole lives to engage in. The short ends with the two chopping off Lutz' arms, the first one on accident, the second to even him out because it didn't look right.
More than anything else, this short is a testament to the iconography of the Star Wars franchise. Meyers provides no context for what a lightsaber is capable of, because most mainstream audiences have come to accept it as a part of modern pop culture. Everyone who knows Star Wars has likely wished for a lightsaber at some point, and Meyers perfectly exemplifies how our best intentions would almost certainly give way to childish glee if we ever actually got our hands on one.
With the wait for The Force Awakens slowly dwindling down, perhaps this short will be enough to tide us over until we get to see the sort of damage Kylo Ren and Finn can do with their own lightsabers – but don't count on it. Star Wars: The Force Awakens will finally come to theaters on December 18 of this year.
Originally from Connecticut, Conner grew up in San Diego and graduated from Chapman University in 2014. He now lives in Los Angeles working in and around the entertainment industry and can mostly be found binging horror movies and chugging coffee.
Your Daily Blend of Entertainment News
Thank you for signing up to CinemaBlend. You will receive a verification email shortly.
There was a problem. Please refresh the page and try again.