The Most Shocking Paternity Reveal In The History Of Maury, According To Maury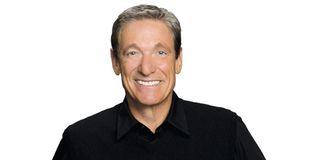 Maury Povich has made a name for himself in the era of digital media and DNA forensics by creating a talk show that is gripping and sometimes wild. It's a show that reveals hard truths to average American citizens, spotlighting issues like teenage pregnancies and infidelity. Most famously, though, Maury has revealed the results of a ton of paternity tests. Recently, Maury Povich revealed the craziest thing that he has ever seen happen on The Maury Show in an AMA. Bizarrely, this same exact situation has cropped up twice.
Twins being the product of two different fathers is obviously a very rare occurrence. The fact that it has happened twice to sets of twins on Maury is frankly incredible. It just goes to show how many total reveals he's done and how many of those have involved relatively unusual sexual experiences.
Both times are well documented on the internet; the first reveal happened to a couple named Regina and Eric, who learned that Eric was the father of only one of the twins. The second—and very similar incident occurred in 2008, when Alejandrina and her ex-partner Jose appeared on the show. In 2008 on the show, Maury even clarified how rare that experience was.
The great thing about Maury is how the host is able to seem sympathetic to all of his guests. It never feels like he's rooting for anything other than the children and the people on stage to find happiness, whatever the outcome of the paternity test might be. It's a wonderful skill, and it's probably the reason that people are so comfortable going on his show. He's not angling to be their friend, but he's angling to be a resource and a shoulder to cry on. Because at the end of the day, those parents still need to go home and parent, whether they're happy with who actually created the child or not.
You can read the rest of Maury Povich's Reddit AMA here. You can also check for his show in syndication on one of your local television stations every weekday.
Your Daily Blend of Entertainment News
Reality TV fan with a pinch of Disney fairy dust thrown in. Theme park junkie. If you've created a rom-com I've probably watched it.
Your Daily Blend of Entertainment News
Thank you for signing up to CinemaBlend. You will receive a verification email shortly.
There was a problem. Please refresh the page and try again.