Welcome To The Family Review: Has Potential But Needs Time To Grow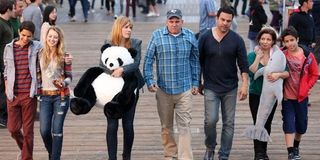 Since Yes, Dear wrapped up, Mike O'Malley's bounced from one guest starring or recurring gig to the other, My Name is Earl, Justified and Glee included. Tonight, NBC puts him back in a starring role in a comedy with Mike Sikowitz's new series Welcome to the Family, a comedy that boasts a promising foursome of parents who are about to become grandparents. The problem is, their kids are barely out of high school. Welcome to the Family gets off to an okay start, but it's some time to settle in.
Miguel (Ricardo A. Chavira) and Lisette (Justina Machado) are the proud parents of Junior Hernandez (Joseph Haro), an achiever graduating at the top of his high school class and Stanford bound. Meanwhile, Dan Yoder (Mike O'Malley) and Caroline (Mary McCormack) are just happy their daughter Molly (Ella Rae Peck) is actually graduating, and as a bonus, she managed to get herself into college, so they're preparing to start the next stage of their marriage now that their kid's moving out. And then they find out Molly has a boyfriend. And she's pregnant.
Miguel and Dan meet at Miguel's boxing gym not long before learning they're about to be grandfathers to the same child, and to put it mildly, they don't get along. So there's that to add to the shock of learning that their kids' futures have already detoured. And so begins the introduction to this story. Two kids having a baby, two sets of parents trying to adjust to the reality that their kids are about to be parents and their family situation is about to be changed drastically.
Mary McCormack and Mike O'Malley are a TV couple waiting to happen, and that in itself is reason enough to hope that this new comedy comes into its own, as the pilot episode isn't quite enough to sell me on the show. But if the pilot has one big selling point, it's the chemistry between McCormack and O'Malley, who click really nicely, both as parents and a married couple. There isn't quite enough to sell me on the chemistry between Junior's parents, but as a fan of Machado from Six Feet Under and Chavira from Desperate Housewives, they're two more reasons to keep an eye on this new series. If Welcome to the Family falls short anywhere, it's the humor. There are some great funny moments, but not enough of them to really bring the pilot to life. I could argue that the premiere episode compensates for the lack of laughs with heart, as there's certainly some of that worth noting, but in this day and age, we're grading on a bell curve that includes Modern Family. So the bar has been raised and it's hard to ignore that when taking new comedies into consideration. On that front, Welcome to the Family has some catching up to do already.
With the above said, Welcome to the Family has the makings of a workable comedy. Like a good family, a good comedy needs a solid foundation and I think Welcome to the Family has one to start with, which is important. Beyond that, it has a great cast. And the pilot isn't bad. It just isn't great, but that doesn't mean the show can't be.
With The Office wrapped up, NBC appears to be taking a different approach with their Thursday night line-up, filling three of the four half-hour spaces with new comedies, all of which are family-focused (see also The Michael J. Fox Show and Sean Saves the World). Welcome to the Family gets off to an ok start, but this is a series that needs some time to grow and figure out how to get the best humor and story out of its characters. I'm not even entirely sure from the pilot if the teens are truly at the center of this series, or if their parents are the reason we'll be tuning in to see each week. Either way, there's enough potential in the cast and premise to continue watching to find out.
Welcome to the Family premieres Thursday, October 3 at 8:30 p.m. ET NBC.
Your Daily Blend of Entertainment News
Thank you for signing up to CinemaBlend. You will receive a verification email shortly.
There was a problem. Please refresh the page and try again.