What Happened When Jeremy Clarkson Returned To The Top Gear Set One Final Time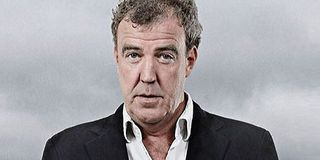 The long tenure of the popular former Top Gear host Jeremy Clarkson is quickly shrinking in the rear-view mirror. However, the publicly pink-slipped presenter recently took some final laps on the test track. Yet, it seems that his anticipated arrival came with an implied message from the show's staff that was none too nice.
In an interview with The Sunday Times, Clarkson discusses a charity auction event he attended last week taking place on the Top Gear test track in Dunsfold, Surrey, England. While Clarkson's dramatic exit from the series was the stuff of enmity-inspiring legends, he nevertheless admitted to getting choked up as he went through the familiar gates to his former workplace. However, it seems that his imminent arrival was not met without some potentially insulting precautions. As Clarkson explains:
Yes, in a move equivalent to hiding the good silverware from a low-class dinner guest, it seems the producers of Top Gear did not want to let the former hosting asset anywhere near the setup where the show was created. A person of the irascible temperament that Clarkson is rumored to be might have been inclined to make an irate display of indignation at the presumption that he would pilfer knick-knacks from his former employer. However, it seemed to roll off of his back, as he was apparently more preoccupied with a different set of emotions related to nostalgia for his longtime gig.
Having been involved with the longtime BBC staple Top Gear since the tail end of its original incarnation in 1988, Jeremy Clarkson became the centerpiece of the show's 2002 relaunch for 215 episodes, creating an irresistibly infectious rapport with co-hosts James May and Richard Hammond. The result was 13 hilarious years of test driving and often demolishing an eclectic array of automobiles, ranging from the most beautiful machines ever hitting rubber to road to some of the industry's worst four-wheeled failures. However, that all came to an end earlier this year, due to a behind-the-scenes incident in which Clarkson allegedly hurled a haymaker at the face of producer Oisin Tymon over a lack of a hot dinner at the end of a long day of filming. The scuffle became the cold-cocked catalyst for his eventual involuntary exit from the show.
The axing of Clarkson resulted in a torrent of tirades from infuriated fans, with some even going so far as to issue death threats to a BBC executive. However, in another example of passion that has proven to be more of a testament to the loyalty and friendship from his two co-hosts, May and Hammond have opted not to return to the show, which has prompted rumblings that the former Top Gear trio are shopping around a potential new car-centric project to alternative streaming outlets. Thus, Clarkson's wistful run down the test track will not likely be his last on TV.
Yet, for Top Gear, the story will also go on, since the show recently announced that it has acquired the first replacement for Clarkson and company in UK television and radio personality, Chris Evans. Brandishing an apparently worthy resume of gearhead enthusiasm, Evans is also clearly just the initial piece of what is expected to be a major overhaul for the controversy-embroiled show. Thus, it appears that for Clarkson, those offices potentially full of cold dinners are staying locked.
Your Daily Blend of Entertainment News