Where On Earth Is Carmen Sandiego? Complete Series Set Hits February 21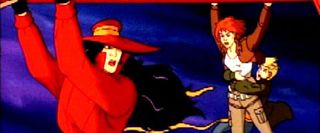 Viewers who were wondering Where on Earth is Carmen Sandiego? won't have to wait too long to find out. The hit nineties animated series – not to be confused with the game show with the catchy jingle Where in the World is Carmen Sandiego? - is coming to DVD in a complete series set, thanks to Mill Creek Entertainment.
Though Mill Creek announced plans for a complete series set way back in the summer, plans were not finalized until recently, giving the Where on Earth is Carmen Sandiego? – The Complete Series a release date of February 21.
The Complete Series set will come with forty episodes. While it won't be busy on the special features, a bonus movie feature film, The Secret Garden will also be included with the full series set. Cost for the set is only $12.98. However, if you feel like a ten-episode disc is enough to get your fix of Where on Earth is Carmen Sandiego?, Mill Creek Entertainment will also be offering a 10 episode set of the animated series' "Best Episodes." Where On Earth Is Carmen Sandiego? – The Best of will run for $9.98.
Though the former may be a better deal, the latter may be a better use of your time. I guess it all depends on whether or not you are an aficionado of the show or the type of person to take advantage of a "buy one sundae get a second one free" deal at McDonald's. No one needs a second McDonald's sundae, and yet there is something compelling about a good deal.
You can check out the box art, below, although I will say I'm not a huge fan of how Mill Creek Entertainment blundered on the question mark part of the title. Maybe the company will fix that before going to print. In the meantime, check out the inferior jingle to Where on Earth is Carmen Sandiego?.
Your Daily Blend of Entertainment News
Thank you for signing up to CinemaBlend. You will receive a verification email shortly.
There was a problem. Please refresh the page and try again.