Why Backstrom Got Cancelled, According To Rainn Wilson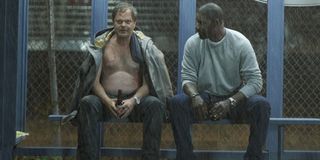 Rainn Wilson spent quite a bit of time researching TV projects after The Office. He ended up settling on Backstrom, a procedural series with a curmudgeon, politically incorrect anti-hero that came from Hart Hanson, who also developed Bones. Unfortunately, Backstrom was not received as well as other curmudgeon-based programs and was cancelled after one season. Here's why Wilson now says the show was cancelled.
A lot of shows that premiere at midseason have a hard time garnering an audience on network TV (unless they're Empire), and Wilson isn't lying in his AMA when he says Backstrom was given a rough timeslot--at least for Fox. The show aired on Thursday nights over at the network. I don't know if you are familiar with network TV's Thursday night lineup, but people typically choose either the Shondaland lineup on ABC or CBS' comedy lineup on Thursday nights. NBC is also a valid choice, especially this season, as the network has added The Blacklist to its Thursday night lineup. This puts Fox at a distant fourth, and the ratings for Bones and Sleepy Hollow have suffered in the ratings because of it this season. So, it's not really surprising that Backstrom also had problems in the slot.
What Wilson's comment doesn't say is that Backstrom got off on the wrong foot early on. The first episode actually premiered fairly high, as people tuned in to see how Rainn Wilson would do as the lead in a TV series—especially one with ties to Bones. Unfortunately, the first couple of episodes featured an extremely harsh-seeming Everett Backstrom, and while I wouldn't say the character softened throughout the show's 13-episode run, he became a character that was a bit more competent and understandable as the weeks wore on, in a House sort-of way. It also helped that his team amusingly began to put him in his place when he became insufferable. Unfortunately, by the time that happened, most of the audience had shuffled away.
Sometimes it takes a show a while to find its footing and by the time that show does find its footing, it's too late. Backstrom is not the only show that has ever had that problem. In fact, it wasn't the only show last season to have that problem. It's nice to see that the actor isn't too disheartened about the experience with leading a network TV show, however.
You can read what else Rainn Wilson had to say about The Office, his career and more in his complete AMA over at Reddit.
It's unfortunate that Backstrom was cancelled. However, if you are looking to add the series to your dvd or blu-ray collection, you can check that out here.
Amazing Race & Top Chef superfan with a pinch of Disney fairy dust thrown in. If you've created a rom-com I've probably watched it.
Your Daily Blend of Entertainment News
Thank you for signing up to CinemaBlend. You will receive a verification email shortly.
There was a problem. Please refresh the page and try again.