10 Great Freshman Shows That Deserve A Second Season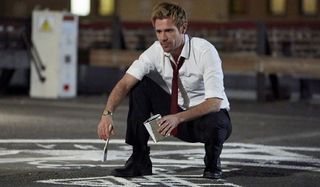 As we come to the end of the traditional TV season – which has been rendered all but moot by midseasons, cable schedules and streaming sites – there are still quite a few first-year shows out there awaiting word on whether or not they have a future. Thankfully, a lot of them are pretty great, as most of the straight-up duds have been put to pasture.
Here are ten freshman series that definitely deserve to make it to Season 2 and beyond, assuming network execs are paying attention to what viewers want. Let's kick it off with that most bubblicious of on-the-bubble shows. (No spoilers here, so it's safe for everyone.)
Constantine (NBC)
A show plagued by low ratings, harsh critics, and constant(ine) cancellation rumors, NBC's Constantine nonetheless has amassed as large a cult fanbase as any network series could hope for, with petitions and social media efforts dedicated to saving it. Today is actually the day showrunner Daniel Cerone and his creative team are presenting their Season 2 case to NBC bigwigs, and we're absolutely hoping they can excise all the negativity out of the room in order to ensure the demons stay on the air. Maybe a shift away from Friday night would help things.
Forever (ABC)
While CBS has cornered the market on simplified format police procedurals, Matt Miller's ABC drama Forever added quite a few additives to the formula, mostly involving Ioan Gruffudd's Henry Morgan, a medical examiner who has been immortal for 200 years. A show that mixes whimsy with murder, Forever's magic rests on Gruffudd's chemistry with co-star Judd Hirsch, as well as Henry's mysterious stalker, Adam, who claims to have the same problem of eternal life. Sagging ratings haven't helped Forever's chances, and with only one episode left in its debut season (airing May 5), there's not a lot of goodwill out there for Season 2. But we'll hold out hope until around 2215 or so.
iZombie (The CW)
A comic book adaptation that shares very little with its source material, iZombie provides a much-needed detour from the survivor horror that most zombified fiction sticks to. iZombie injects twentysomething angst and cheeky humor to the murder procedural, with Rose McIver's passive Liv Moore serving as a coroner's assistant who eats corpses' brains to figure out how they died. In lesser hands, this might have been nightmarishly cornball, but it's the latest series from Veronica Mars creator Rob Thomas and Diane Ruggiero-Wright, so its tone is consistently unique. And with an overarching storyline that's deepening the case-of-the-week format, iZombie deserves a long undead life.
Backstrom (Fox)
Perhaps it was naïve to think that watching Rainn Wilson solve crimes with an iron tongue and an offensive brain would be a constant treat for TV audiences, as the Fox dramedy has seen its ratings drop since its January premiere, with a few weekly exceptions. But the thing is, the show has found its rhythm over the past couple of months, taking full advantage of a solid cast that includes Dennis Haysbert and (occasionally) Robert Forster. Backstrom's season finale will air this Thursday, April 30, so perhaps we'll hear something concrete about its fate soon. Or perhaps Fox will just give creator Hart Hanson's other show Bones another seven seasons.
Black-ish (ABC)
Despite starting out as a by-the-sitcom-books look at a black family in the midst of trying to re-grasp their blackness, ABC's Black-ish didn't take long at all to hit its stride, which it's maintained ever since. While it doesn't stray far from the storylines that most family comedies adhere to, Black-ish boasts excellent joke-writing, and almost every episode has its share of belly laughs to balance the groaners. This is perhaps the most surprising of the non-renewed series, as Black-ish has been both a critical hit and a pretty steady ratings draw. Perhaps good news will follow the season finale on Wednesday, April 29.
Other Space (Yahoo Screen)
Created by the brain behind Freaks and Geeks, Paul Feig, Other Space is a sci-fi comedy that feels almost more like a British comedy than an American one. With writing as sharp as its cast, which includes Mystery Science Theater 3000 creator Joel Hodgson and co-star Trace Beaulieu, Other Space's first season took viewers into a parallel universe and imbued traditional sci-fi tropes with an intelligent silliness, and ended on something of a cliffhanger. Being that it's one of Yahoo Screen's first original series, it's not at all clear how their renewal process will work, but we're wishing on all the shooting stars in the universe that it makes it to Season 2.
Marvel's Agent Carter (ABC)
American audiences seemingly can't get enough of comic book adaptations these days, and Agent Carter was a nice reprieve from all the costumed superheroes and citywide destruction that the Marvel Cinematic Universe always has on display. With a stellar lead in Hayley Atwell and a supporting cast that can't be beat, Agent Carter also brought a great post-WWII aesthetic to its double-crossing spy drama. It was technically only envisioned as a one-off limited series, and one that wasn't exactly a ratings phenomenon, but ABC would be wise to keep its small screen Marvel universe going as long as possible, and there is a lot of story left to tell in this timeline.
Battle Creek (CBS)
A buddy cop show is basically only as strong as its cop buddies, and there are few on TV right now that are stronger than Josh Duhamel's Special Agent Milt and Dean Winters' Detective Russ, although I guess their "buddy" distinction is more antagonistic than most. Created by Breaking Bad's Vince Gilligan and House's David Shore (a decade ago), Battle Creek gives its humorous central duo an array of interesting cases to solve in the unlikely Michigan location, as well as a winning group of fellow detectives to help them, including Kal Penn and Damon Herriman. (R.I.P. Justified.) It would be a crime to cancel a show where Patton Oswalt is the mayor.
Resident Advisors (Hulu)
The latest in a growing line of Hulu-exclusive comedies that have trouble entering the pop culture zeitgeist, Resident Advisors (opens in new tab) is by far the streaming service's most sex-n-drugs-fueled output yet, as it centers on a ragtag group of dorm R.A.s offering questionable guidance to their college freshman underlings. Though the ribald subject matter can get a little too immature at times, the laughs are frequent and most often anchored by the always-enjoyable Ryan Hansen, who plays the 30-year-old R.A. that won't grow up. With a seven-episode first season that uses a dorm fire as a wraparound plot device, Resident Advisors delivers more than enough fun to deserve a sophomore season.
Galavant (ABC)
For some reason, TV shows just don't get overly silly that often anymore, but Galavant is the most regal of exceptions. Though the plot of Joshua Sasse's titular knight trying to win a woman's hand back from a goofily evil king isn't groundbreaking, this series employs exquisite musical numbers that are cleverly hilarious and never tiresome. (Also something missing from today's TV landscape.) The main cast, in which Timothy Omundson shines as King Richard, is strengthened by a revolving drawbridge of guest stars including Weird Al, John Stamos, Hugh Bonneville and more. Though it was initially supposed to be a limited series, Galavant's quest for a second season is still ongoing, so here's hoping we're singing a happier tune soon.
Your Daily Blend of Entertainment News
Assistant Managing Editor
Nick is a Cajun Country native, and is often asked why he doesn't sound like that's the case. His love for his wife and daughters is almost equaled by his love of gasp-for-breath laughter and gasp-for-breath horror. A lifetime spent in the vicinity of a television screen led to his current dream job, as well as his knowledge of too many TV themes and ad jingles.
Your Daily Blend of Entertainment News
Thank you for signing up to CinemaBlend. You will receive a verification email shortly.
There was a problem. Please refresh the page and try again.