Why The Glenn Resolution On The Walking Dead Needs To Come Soon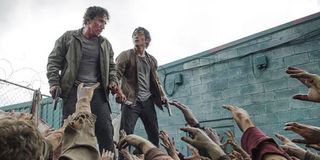 While this article is mostly about viewership, there are some obvious spoilers. Please be aware of that before reading.
The Walking Dead hasn't had the best season, ratings-wise, although numbers had picked up in recent weeks thanks to the crazy Glenn episode and the hope that we would find out what happened soon after. However, it seems that this week the Glenn cliffhanger is having the opposite effect. Numbers are down, and many are surmising it's because viewers are frustrated. In a nutshell: This Glenn resolution needs to happen soon.
This week in Live+same day numbers, AMC's long-running zombie drama brought in 12.44 million total viewers. It also did a 6.2 rating. That's a 6% dip in total viewers and a 9% dip in viewers in the 18-49 demographic. Those numbers are also the worst The Walking Dead has seen all season in the 18-49 demo, according to Deadline. Plus, while Season 6 kicked off to lower ratings and struggled a bit early on, it's the first dip the show has seen in two weeks, since the Glenncident occurred.
We should note that The Walking Dead clearly has a loyal DVR following. The show also does numbers that are enviable to most other shows. So, it's not like The Walking Dead is going anywhere anytime soon. Again, it's not time to have any sort of cancellation panic or anything. Regardless, the numbers do say a lot about how people are feeling about the way Glenn was probably—maybe—possibly killed off on the AMC drama two weeks ago and how the show has treated that plotline in the time since. People are ready to know what happened to Glenn, and the resolution of his story needs to come soon.
Two weeks ago, Nicholas shot himself and fell off of a dumpster, pulling Glenn into a horde of zombies with him. It was horrific, it was shocking and it was devastating. But then rumors started to emerge that Glenn might possibly not be dead after all. After all, we never saw him absolutely die and those intestines could very well have been Nicholas.' It didn't help that showrunner Scott Gimple said we would see Glenn again, although he was intentionally vague regarding how. Characters like Maggie and Aaron have been keeping hope alive regarding Glenn in the weeks since that shocking episode aired, but even with the solidarity between the fans and characters, every moment has felt like a slog through thick mud as we wait for the conflict resolution, and we know—as happened with Sophia—The Walking Dead could make us wait for a very long time.
The bright news? Recently, TWD actor Ross Marquand revealed we won't have to wait too much longer to learn what happened to Glenn.
When it happens, the resolution of this storyline will come none too soon. Viewers are growing impatient for the outcome, and that impatience shows as the numbers on the series wane.
You can catch new episodes of The Walking Dead on Sunday nights at 9 p.m. ET.
Photo courtesy of AMC.
Amazing Race & Top Chef superfan with a pinch of Disney fairy dust thrown in. If you've created a rom-com I've probably watched it.