Why Netflix's Version Of The Defenders Makes Sense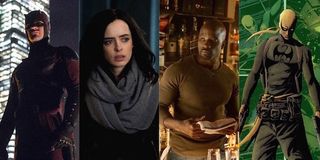 When Marvel announced in 2013 that Daredevil, Jessica Jones, Luke Cage and Iron Fist would get their own TV shows on Netflix, it was also revealed that the heroes would eventually team up in a Defenders miniseries. To the causal Marvel fan, the chance of seeing a superhero team besides the Avengers is exciting, but hardcore comic book fans know that the MCU's Defenders are different than the earlier iterations from the comics. However, using street-level heroes rather than the original set of members makes sense in terms of how the Marvel Cinematic Universe is unfolding.
When asked if there was any trepidation involved with changing the Defender's lineup for the small screen, Marvel's Chief Creative Officer Joe Quesada told IGN that the superhero team's obscurity to the general public helped them adapt the team better for this continuity. Quesada said:
Introduced in 1971, the first incarnation of the Defenders consisted of Doctor Strange, Namor the Sub-Mariner and The Hulk, while Silver Surfer and Valkyire would later be added as key members. Not only are all these characters much more powerful than the street-level heroes making up the team in the MCU, but all of them were also outsiders who would typically eschew working on a regular superhero team, to the point that they were considered more of a "non-team." Although Luke Cage and Daredevil did later serve as recurring members in the comics, the Netflix miniseries will be their first time prominently connected to the team, and meanwhile, founders Doctor Strange and Hulk will contribute to the MCU on the big screen.
News regarding the Defenders miniseries has been stagnant as we watch for each of its members kick off their own adventures. However, it was reported last month that The Punisher might take Iron Fist's spot on the team. Even when compared to the heroes from the original Defenders team, Punisher has never been a team player, so pairing him with Daredevil, Jessica Jones and Luke Cage would be a strange move. For now, take that particular rumor with a grain of salt, and beyond that, we'll have to wait and see what threat brings all these heroes together in the near future.
No release date for the Defenders miniseries has been announced, but fans can watch one of its members begin her MCU journey when Jessica Jones premieres at midnight, November 20, on Netflix.
Connoisseur of Marvel, DC, Star Wars, John Wick, MonsterVerse and Doctor Who lore. He's aware he looks like Harry Potter and Clark Kent.
Your Daily Blend of Entertainment News
Thank you for signing up to CinemaBlend. You will receive a verification email shortly.
There was a problem. Please refresh the page and try again.