The Wire's Michael B. Jordan Plans TV Return With Detroit-Based Basketball Drama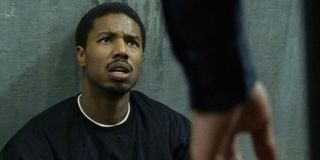 Michael B. Jordan has grown up, rapidly, before everyone's eyes. Whether you met him as the tender Wallace in the first season of The Wire or as quarterback Vince Howard on Friday Night Lights, he was one of the most engaging kid actors on television… until all of a sudden, right now, he's a grown man who's not only taking starring film roles, but putting his muscle behind the camera as well. Appearing on Bill Simmons' podcast The B.S. Report (via The Wrap), Jordan revealed that he's planning a TV series set in Detroit, and centered around basketball.
Because this is an off-handed remark made on a podcast, the details are pretty scant. Jordan did talk a bit about what he finds so fascinating about Detroit, which of course has made plenty of ugly headlines lately:
Jordan also claimed to be a fan of the Michigan State basketball program, for what that's worth (what, no love for the almost-national champions right down the road in Ann Arbor?)
Jordan is currently tirelessly promoting Fruitvale Station, the harrowing drama that debuted to immense acclaim at the Sundance Film Festival earlier this year, and is currently making its way through limited release (last weekend it was a surprise tenth-place finisher at the box office). An Oscar campaign for his lead role in the film will be coming up this fall, and if certain rumors pan out, a superhero role could launch Jordan as a major star very soon. That could significantly help him get this TV series off the ground, though it's unclear how an actor with such a promising movie career would be able to participate in it onscreen. If Jordan is just producing behind-the-scenes, is that as strong a sell as bringing Wallace back to television?
There are, of course, more ways to bring TV content to viewers now than ever before, and even if a TV series set in Detroit doesn't seem glossy enough for a network, there are always the Showtimes and Netflixes of the world willing to make a gamble on something new. If Friday Night Lights could be rescued in its final season by DirecTV, we bet Jordan's Detroit basketball story will find a home somewhere.
Here's the trailer for Fruitvale Station, if you want to marvel at just how much Wallace has grown up:
Staff Writer at CinemaBlend
Your Daily Blend of Entertainment News
Thank you for signing up to CinemaBlend. You will receive a verification email shortly.
There was a problem. Please refresh the page and try again.