The X-Files Is Making A Bold Choice With Characters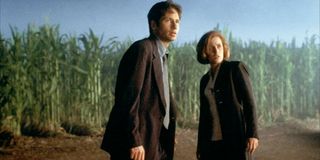 Ever since the announcement confirming the return of The X-Files fans have been in a tizzy trying to predict the big bad mystery Mulder and Scully will have to face. We've been given some details, the confirmation of certain other characters returning, and even the original writer and creator. But when it comes to plot and story, there's been a whole lot of maybes thrown around. Well now, it looks like a piece of info has leaked from set, giving us some intriguing information about the new characters we'll be exposed to in Episode 1 of the mini series, and they're certainly out of this world.
Potential Spoilers Ahead: Here's your warning, big details have been leaked that we are about to discuss.
So it looks like we'll be getting into the land of extra terrestrials right off the bat. Fans of the series got their hands on a leaked call sheet from the set that shows the Season 10 premiere including a plot involving the inoculation of abductees with alien blood, and a scene with dead aliens full of bullet holes? There's also apparently two flashback scenes involving sharp medical tools and a clean shaven doctor played by Giacomo Baessato who will be completing the act of inoculating the abductees with alien blood. A woman named Svelta played by Annet Mahendru is said to be a victim of the alien abduction, and the episode will feature her on a table screaming as a fetus is lifted. Oh and don't worry, there's also a small scene that shows Scully leaving work at a Hospital while Mulder awaits. Basically everything you need for an eye-opening return to The X-Files.
There are some other random details from the call sheet, which you can explore via X-Files News, but the big reveal is this bold choice of characters. With only six episodes set for the mini series, Fox sure isn't going to waste any time. And as if viewers needed an extra reason to keep tabs on the show, well this opening number sure will engage.
We've also gotten word that when the tenth season of The X-Files hits, one of the episodes will be revisiting the beloved early episode "Home". In the classic season 4 episode, Mulder and Scully visit a remote Pennsylvanian town where they find the corpse of a deformed baby. Their investigation results with the encounter of a violent inbred clan, the Peacocks. "Home" lends itself to more of horror story style than most X-Files episodes, but if this has any relation to the above leaked plot, it may be putting a spin on the classic "Home". Maybe Mulder and Scully will be finding a corpse of a deformed human/alien hybrid, which will lead them to the said inoculating.
We'll have to wait and see what the alien blood is doing to these abductees, and why they were abducted in the first place. So many questions, but it is an exciting prospect to know we will already be exposed to ETs by the first episode. If all this is set to be true, we can catch Svelta and a clean shaven Giacomo Baessato on January 25, 2016.
Your Daily Blend of Entertainment News