Zoe Kravitz Brings Acting And Music Genes To Californication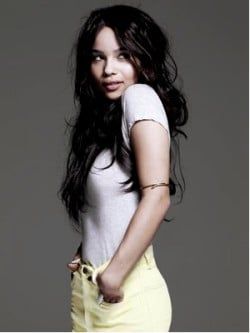 I'm still not sure what to think of Zoe Kravitz guest-starring on Californication for six episodes. as Entertainment Weekly reported. Yes, her role is in association with Becca, Hank's daughter, but that doesn't mean Hank won't have access to her. And we all know what Hank does when he has access to a pretty girl.
I don't know if it's because she's the daughter of Lenny Kravitz and Lisa Bonet, or because she's 21. The age shouldn't really be an issue, because Hef scores chicks younger than that. I guess it's because I've watched her parents since they were her age, and younger. As such, it's harder to imagine her old enough to be stripping it all off for the popular Showtime series -- and I don't even know that she'll be doing that.
Maybe it's because Duchovny is older than both Lenny Kravitz and Bonet. It would be even weirder if he knew either of the parents. "Hey, yeah. I did this sex scene with your daughter earlier today. Great cans on that one. Nice job, guys."
Okay, probably her role will have nothing to do with Hank's out-of-control sex life, or at least we can hope. Instead, she'll add some musical legacy (at least unofficially) to Becca's all-girl band. Who knew the daughter of Lenny Kravitz had musical talent ... or at least could act like she does. Oh, and the character's name? Big stretch here. Like Tony Danza, Zoe is stretching to tackle a character named -- Zoe. Try to remember it, sweetheart. It makes the filming go much smoother.
Your Daily Blend of Entertainment News