Zombieland, Betas And Other Amazon Pilots Now Available To Watch And Review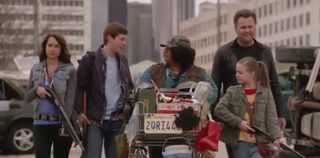 Amazon's doing things a little bit differently than network television. Rather than making their series orders before presenting the chosen shows to viewers, they're turning their site into one big focus group in giving the public a look at the goods before any decisions are made on which pilots will go to series. Today, Amazon made fourteen pilots available for viewing through Amazon Instant Video. That includes the anticipated Zombieland pilot.
Amazon is looking to viewers to offer their feedback on the posted pilots. The reviews posted by viewers will help them decide which of the projects will go to series. The chosen shows ordered to series will eventually be made available through Amazon Prime's streaming video feature. You don't need to be a Prime subscriber to watch and review the pilots, but you will if you want to see the finished series.
Here are the comedy pilots available to watch:
Alpha House - a comedy starring John Goodman and Mark Consuelos about four senators who (judging by the description) also live together.
Betas - Starring Joe Dinicol, Ed Begley Jr. and Karan Soni, this one follows a group of guys who have created an app and are trying to find success in Silicon Valley.
Browsers - Stars Bebe Neuwirth and Bridgette Davidovici and centers on a group of interns working at a new job.
Dark Minions - Stars Clancy Brown and Phil LaMarr and looks like a stop motion animated show about a couple of guys working for an evil space empire.
Onion News Empire - Stars William Sadler and Jeffrey Tambor and follows a group of journalists trying to claw their way to the top.
Supanatural - Stars Jameeliah Garrett and Lila Sparts and is an animated comedy about two divas who are humanities last line of defense.
Those Who Can't - Stars Nikki Glaser and Kyle Kinane and centers on three immature high school teachers looking to exact revenge against the high school hotshot who's making their lives miserable.
Zombieland - Stars Kirk Ward and Tyler Ross and serves as a follow-up to the film by the same name, centering on four survivors of the zombie apocalypse.
In addition to the above mentioned comedy pilots, there are also six kids pilots, so those of you with little ones might want to treat them to a sample buffet to see which of the available shows they take to. Among them are Annebots, Creative Galaxy, Positively Ozitively, Sara Solves It, Teeny Tiny Dogs and Tumbleleaf.
Your Daily Blend of Entertainment News
Thank you for signing up to CinemaBlend. You will receive a verification email shortly.
There was a problem. Please refresh the page and try again.