Anne Heche's Girl in Room 13 Director Opens Up About Working With Her On One Of Her Final Films
Girl in Room 13 director talks about working with Anne Heche.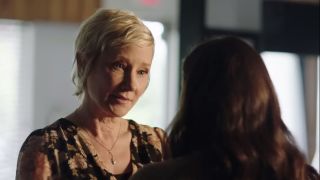 (Image credit: Lifetime)
No one would have ever predicted that Anne Heche's Lifetime movie Girl in Room 13 would feature one of the actress' final on-screen roles. Her recent death at the age of 53 shocked the world, and thus strengthened the memories that loved ones had of spending time with her, especially in more recent years. To that end, the director of Girl in Room 13 spoke about what it was like working with Heche in what would become one of her final films.
Lifetime's Girl in Room 13 will show off a heroic side of Anne Heche's acting range, as she plays a determined mother trying to find her daughter, who was kidnapped by human traffickers. Director Elisabeth Röhm told People that she's really proud of the work she accomplished with the ill-fated actress, saying:
This Lifetime movie was clearly a very important project for Anne Heche to take part in. Following the movie, she and her on-screen daughter Larissa Dias joined Röhm to participate in a PSA for Lifetime partnerships with the Polaris Project and the National Human Trafficking Hotline. Because the issue of human trafficking was an important one to tackle, Röhm and Heche were dedicated to using this film to help in the fight to stop violence against women.
It seems obvious that Elisabeth Röhm considers herself very lucky to have had the chance to work with Anne Heche on a project of such import. She continued, sharing what a "tour de force" the actress was on set.
Anne Heche's death was a total tragedy to her friends, family, fans, and the people who worked with her. She was hospitalized following multiple car crashes which left her stuck in her car after it went into a fiery blaze. Emotional tributes flowed after headlines reported that Heche died in the hospital from her injuries. On a bittersweet note, the Volcano actress will continue to be a hero even in death, as she was able to donate her organs as she'd always intended. Despite the tragedy, fans will soon get to know this talented actress like they never have before, as the massive posthumous sales of her 2001 memoir Call Me Crazy led to the announcement that her memoir follow-up Call Me Anne will be released on January 24th, 2023.
After having such a positive time putting the movie together, Girl in Room 13's Elisabeth Röhm hopes for more people to celebrate the work and legacy that Heche left behind. Girl in Room 13 debuted on Lifetime on September 17, but will no doubt air again soon. Take a look at our 2022 TV schedule as to not miss a beat on the latest premieres coming to your TV screen, and our 2023 movie releases will clue everyone in on the release date of another of Anne Heche's final movies, What Remains.
Just your average South Floridian cinephile who believes the pen is mightier than the sword.
Your Daily Blend of Entertainment News
Thank you for signing up to CinemaBlend. You will receive a verification email shortly.
There was a problem. Please refresh the page and try again.