Riverdale Actor Ryan Grantham Admits He Has 'Work' To Do After Killing Mother And Plotting To Murder Justin Trudeau
Riverdale actor Ryan Granthan is reportedly working on himself during his prison sentence.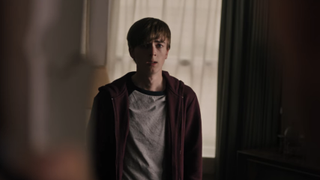 (Image credit: The CW)
To many, Ryan Granthan seemed to have a rising career, having landed roles on notable TV shows over the years. That professional trajectory took a turn in 2022, however, after Grantham was found guilty of murdering his mother in 2020 and plotting to kill Canadian Prime Minister Justin Trudeau. In the time that's since passed, it would seem that he's since been seeking to make progress internally. Now, it's been reported that the young Riverdale alum admitted he has "work" to do on himself while in prison.
Ryan Grantham appeared on Riverdale as Jeffery Augustine, the young man who accidentally killed Luke Perry's Fred Andrews -- a development that came after the 90210 star's unexpected death of a stroke at 52. It was during the summer of 2022 that Grantham plead guilty to fatally shooting his mother and attempting to kill Justin Trudeau. Now, TMZ has provided an update from Grantham's attorney, Chris Johnson, regarding how the 25-year-old is doing. The attorney said:
It's also TMZ's understanding that Chris Johnson has been very concerned about his client's well-being. Because the former actor is petite, Johnson feared him being "physically, psychologically and sexually intimidated" if he were to be placed in a maximum security prison. This ultimately led Johnson to request that he be relocated and, with that, authorities recommended he stay in a prison hospital located in British Columbia, Canada.
That situation will remain in effect until a new location is determined. As it stands, Ryan Grantham -- who landed roles on shows like iZombie and Supernatural over the years -- is serving a life sentence and is ineligible for parole during his first 14 years. Sources for the news outlet also claim that he's currently seeing a prison psychologist as well as a psychiatrist. With that, his attorney further emphasized that his client is looking to focus on his mental health moving forward:
Ryan Grantham was experiencing feelings of depression and self-loathing and felt the urge to commit violence during the months leading up to the murder, per Complex. Crown prosecutor Michaela Donnelly said Grantham was afraid his mother would find out about his poor school performance and that he participated in recreational drug use. After Grantham eventually shot his mother in the back of the head in March 2020, he reportedly loaded his car with three guns, ammunition, 12 Molotov cocktails, camping supplies and a printed Google map with directions to Justin Trudeau's cottage. His sister, Lisa, was the one who found their mother's body and revealed she was battling cancer before her tragic murder.
Only time will tell whether or not the actor's alleged focus on his mental health will continue for the foreseeable future and if he can put in the "work" he needs. And of course, it also remains to be seen if he'll get parole when he's finally eligible years from now.
Your Daily Blend of Entertainment News
Just your average South Floridian cinephile who believes the pen is mightier than the sword.