Wheel Of Fortune Contestant Gets Hilariously Toasted By Bagel Fans Over Wild Guess
Apparently, this food isn't as well known as many thought!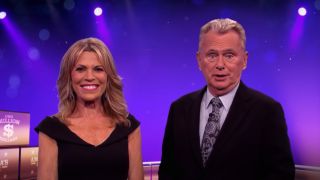 (Image credit: CBS)
Wheel of Fortune has been around a long time, and that means there have been plenty of opportunities for some truly terrible guesses at what appear to be pretty simple puzzles. However, just when viewers think they may have seen the dumbest wrong answer yet, there's another faux pas not far behind. One contestant from a recent episode is getting toasted on social media for her lack of knowledge involving a delicacy that's particularly popular in the New York area — bagels and lox.
If you found yourself wondering, "What the heck is lox?," you are not alone, and Angie Gautney, a player on the March 1 episode of Wheel of Fortune, learned the hard way. The only letters missing from the puzzle, "Warm Toasted Bagels With Lox And Cream Cheese" were the G in "Bagels" and the X in "Lox." Angie tried to solve the puzzle, but she clearly wasn't confident in the second missing letter, guessing "Low" instead. Ummm, oops!
on Wheel Of Fortune: WARM TOASTED BAGELS WITH LO_ AND CREAM CHEESEShe said LOW AND CREAM CHEESE #WheelOfFortune pic.twitter.com/nnia85QHbFMarch 2, 2023
As is to be expected anytime a contestant seems to be failing at life, viewers were shocked, SHOCKED I tell you, and they made sure to hit up Twitter with comments like:
It turns out, plenty of people in the Twitter-verse had never heard of lox, which, for the record, is brined salmon, popularly paired with cream cheese on a bagel with onions and capers. While New York's Bagel Boss was no less offended at the contestant's bagel ignorance, at least there was an effort here to help educate Florida resident Angie Gautney:
One viewer admitted to also not knowing about the salmon product but pointed out there was another reason the contestant should have gone with a different guess:
Look at this dude trying to bring logic to this space! This is actually a great point, because obviously with the word "Warm" on the board, the other word couldn't have been "Low." That's probably where nerves come in, with the player having to make a quick decision.
This was likely not the most egregious wrong answer Wheel of Fortune viewers have ever seen, and we did not endure the most excruciating 2 minutes of ridiculous guesses. Angie Gautney only erred once, where we have definitely seen some give two wildly wrong answers. And sometimes you get more than one contestant flubbing it up in the same episode.
One good thing to come out of the mistake is that more people are now aware of the regional delicacy, and if the contestant is suffering any embarrassment over the fans' reactions, she can rest assured, there will always be more players with more terrible guesses to follow.
Your Daily Blend of Entertainment News
Mom of two and hard-core '90s kid. Unprovoked, will quote Friends in any situation. Thrives on New Orleans Saints football, The West Wing and taco trucks.