12 Days Of Christmas: Harry Potter Gift Set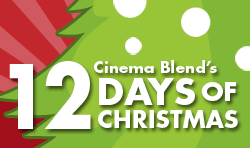 It's time to celebrate the Christmas/ Chanukah/ Kwanza/ Festivus Holiday season, so here at Cinema Blend we're enjoying Twelve Days of Christmas. Yes, we know traditionally the "12 days" start with Christmas, but we plan on being celebrated out by that time, so we're pushing the twelve days leading up to the holiday.
Here at DVD Blend, we're celebrating by suggesting some of the more impressive DVD sets to come out this year. Think of the list as a buying guide for the movie fanatic in your life, just in case you haven't thought of something for them already.
On the tenth day of Christmas, my true love gave to me…
Five years of Hogwarts Adventures
It's hard to believe that the Harry Potter novels have come to an end. The movies aren't too far behind either. Five of the seven books have already been adapted into movies, most of which have been pretty good. Along with the DVD release of this year's Harry Potter and the Order of the Phoenix came a cool box set of all the movies, packaged as the luggage of some Hogwart's student.
Now, this set seems a little strange to me, mostly because Harry Potter is close to an addiction for the fans who have followed the boy wizard through his seven years at Hogwarts. Based on the hype surrounding the sales of the seventh book, I can't imagine any Potter fan doesn't have the movies already, and has already watched them dozens of times. Still, it's a cool little set, and it's available in both Blu-ray and HD DVD options. That means little wizards and witches who already have the movies can easily acquire them in higher resolution versions, courtesy of this nifty little set.
The perfect gift for… that Harry Potter fanatic who is making the leap into high definition, otherwise it's pretty likely they already have all the movies without the gift set.
Read all of Cinema Blend's 12 Days of Christmas features in other sections by clicking here.