Walmart Offering 60 Blu-Rays For 5 Bucks On Black Friday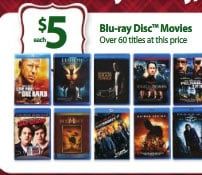 How do you know Facebook has gone completely mainstream? Even Walmart is using it. They've used the social networking site to create an online version of their Black Friday sale ad.
You may ask why Cinema Blend is looking into this at all? It could be because Walmart is featuring over 90 DVD titles for $ 1.96. Alternatively, it could be because Walmart is offering 30 Blu-Ray titles, including many fairly recent releases, such as Get Him To The Greek for 10 bucks. But it's probably because Walmart is offering 60 Blu-Ray titles for 5 bucks. I couldn't see much of the teensy-weensy little ad, but I did see copies of Ice Age, Superbad,The Mummy, one of the Die Hard movies, and Night at the Museum II (boomstick). If you are underwhelmed at all by this story, don't be. I've never seen a brand new Blu-Ray disc go for less than ten bucks in a store, ever.
Just think, even if you're the type who abhors Walmart, who hates that the company for its refusal to hire unionized contractors, or who hates the idea of giant international companies, or who gets the skeeves at how cheap your surroundings are each time you set foot in any given Walmart, just remember: you're kids fucking want Christmas presents, and this is a crazy cheap price.
Seeing is believing. Check out the ad here around page 10.
Your Daily Blend of Entertainment News
Thank you for signing up to CinemaBlend. You will receive a verification email shortly.
There was a problem. Please refresh the page and try again.