Here's What Happened To The Lucky Few Who Got Fallout 4 For Free By Accident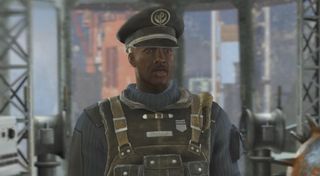 (Image credit: Bethesda)
Microsoft mistakenly updated the Xbox store for Fallout 4. Why was it a mistake? Because they set the price to $0. As a result, a bunch of people download Fallout 4 for free, but they didn't get to keep it.
According to VG 24/7, Microsoft mistakenly set the price of Fallout 4 and its accompanying DLC for the Xbox One to $0. A few gamers people up downloading the game for absolutely nothing, thinking that the game was being handed out for free as part of a promotion from Blizzard for the upcoming E3 press conference set to take place this Sunday.
However, this was not a promotion and Fallout 4 was not intended to be given away for free. It was actually a massive mistake on the end of the Microsoft Store. Nevertheless, a bunch of gamers grabbed it anyway only to find out that they couldn't keep it.
Microsoft has been deactivating the Fallout 4 licenses remotely, so anyone who downloaded the game for free will find that it's no longer in their library. A representative mentioned to Neowin,
To compensate for this somewhat major hiccup involving Fallout 4, Microsoft decided to give gamers a $10 voucher for use on the Microsoft Store. Gamers will have an entire year to make use of the $10 voucher as a way for them to apologize about letting people gain access to Fallout 4 for free and then taking it away.
The comment section on VG 24/7 reveals that this is one of the major worries a lot of people have about digital distribution: the fact that a publisher or developer can easily filter through accounts and remove digital licenses at the click of a button. It makes it very difficult to convince gamers to give up their physical copies and go all-in on the digital front when things like this happen.
In this particular case, customers didn't do anything wrong, they just took advantage of a mistake on Microsoft's end. In a way, you could say they're getting something out of it with the $10 voucher, but also at the same time it's scary that the publisher can simply enter into a user's account, select the game and remove it from the library.
This has happened a couple of times with Steam games, where products no longer operating were automatically removed from the user's library. It's a rare occurrence but it still doesn't sit well with most gamers.
In this particular case, Microsoft is attempting to make amends for their mistake involving Fallout 4 by issuing the voucher. Gamers can expect the $10 voucher to arrive in their accounts no later than the end of June. As mentioned, those who get the $10 will have up to a year to use it before it expires.
Staff Writer at CinemaBlend.
Your Daily Blend of Entertainment News
Thank you for signing up to CinemaBlend. You will receive a verification email shortly.
There was a problem. Please refresh the page and try again.