CastleStorm VR And Drop Dead Show Off Diversity Of Gear VR Library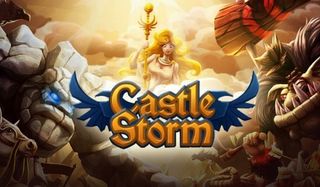 Whether you're looking for bigger gaming experiences or pick up and play romps, it looks like Gear VR will have a little something for everyone. We had the opportunity to take on CastleStorm VR and Drop Dead in the E3 Oculus booth this week, with the former offering a more robust gaming experience and the latter proving perfect for quick bursts of gameplay.
One of the concerns surrounding virtual reality is whether or not the platform will be able to offer a robust library of gaming experiences. Based on my visit to the Oculus booth during E3 2016, there doesn't seem to be anything to worry about in that department.
I've had experiences with both the Oculus Rift and the PlayStation VR at this points, so I wasn't sure what to expect out of the Gear VR, a device that turns your smartphone into a VR headset. I walked away impressed, as the device did a great job of tracking my movement and creating convincing VR worlds.
First up was CastleStorm VR, which was announced the day prior for Gear VR. Zen Studios' Steven Hopper walked me through the introduction and then let me loose on the familiar game. _CastleStorm _is available on just about every platform at this point and, eventually, it'll be playable in the virtual space, too.
All menus and cutscenes took place in a virtual theater themed after the game. Once the action got rolling, I was thrust into a sort of "eye of God" view that had me hovering over the landscape. My own castle curved off to the left while the enemy stronghold was off to the right. Instead of seeing everything at once, I had to turn my head from side to side in order to keep track of the road between these two locations.
What I found especially nifty was the fact that the menu that typically rests at the bottom of the screen in CastleStorm was settled in a large field at the bottom of my view. Rather than constantly taking up part of my view, I could simply look down in order to see what weapon I had selected, cycle through the menus, etc.
Anyone who has played CastleStorm knows that those tower defense battles can evolve into epic showdowns, and everything worked great on the Gear VR headset, so I could definitely see kicking back on the couch with a controller in hand and diving in for extended play sessions.
Next up was Pixel Toys' Drop Dead, a new title that CEO Andrew Wafer was happy to introduce me to. This was a nice little surprise for my first day on the E3 show floor. I'm a big fan of the House of the Dead Games, and this particular title captures that spirit nicely.
The level I played had me walking through a graveyard as various types of zombies shambled onto the scene, climbed over crypts or crawled out of the ground. My job was simple: shoot them before they got to me.
What was most interesting about Drop Dead was the game's controls. Rather than use a controller, the Gear VR allows for touchscreen and tap controls on the right side of the device. Wherever I looked, that's where the gun aimed. I wiped down on the pad to reload and tapped quickly to fire. Think Cyclops from the X-Men and you've got the idea of what I must have looked like. It may sound a bit silly, but the whole thing controlled really well and proved that you won't always need a controller to play VR games.
Between CastleStorm VR and Drop Dead, it's becoming clear that games for every type of player will be making their way to headsets, making me even more confident about the future of the platform.
Staff Writer for CinemaBlend.
Your Daily Blend of Entertainment News
Thank you for signing up to CinemaBlend. You will receive a verification email shortly.
There was a problem. Please refresh the page and try again.