Zen Pinball Iron And Steel Review: Heavy Metal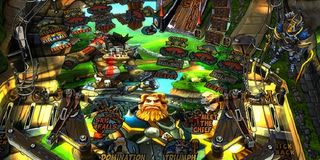 Every few months, the folks at Zen Studios release a couple new pinball tables for its virtual catalog, treating pinheads on PlayStation, Xbox and mobile devices to new challenges, bumps, twists, turns and flips on carefully crafted fields boasting a wide variety of themes. The latest addition to Zen Pinball 2(PS)/Pinball FX 2(Xbox) is the "Iron and Steel" pack, offering a trek through the wild west and a medieval siege via two brand new tables.
At this point, I'm starting to feel like something of a broken record when it comes to the quality of Zen Studios' virtual pinball tables. Put simply, the team doesn't really make a bad pin experience. From original themes to tables based on the Marvel Universe, Star Wars and, most recently, South Park and The Walking Dead, each table is overflowing with clever details, great animations, entertaining events and an obvious love for the genre.
That holds true with the Iron and Steel collection that released earlier this week, boasting a table based on another Zen property, Castle Storm, as well as the studios first wholly original table in three years, Wild West Rampage.
Of the two tables, Castle Storm is the weaker of the two but, by Zen standards, that just means you're getting a slightly less entertaining table than the dozens of stellar tables already available for the game.
Once the donkey (yes, a donkey) kicks the ball onto an almost barren lower play field, you have the opportunity to shoot toward an upper region that's literally packed with ramps. The lower field is actually open for a good reason, which I'll get to in just a moment.
There's a set of pumpers tucked under the ramps in the upper right corner and, in the upper left, you'll find a second mini playfield that plays home to two rows of drop targets. The theme of the table is that you fighting off invading forces while simultaneously pushing an attack of your own. The two rows of targets represent enemy soldiers and, once you make enough of them fall in battle, you can hit a back panel that does direct damage and scores you lots of extra points.
What's nice about this upper field is that you'll be playing on it quite often, so it isn't tucked away like some secret treasure that you only get to enjoy every once in a blue moon, as is typically the case with second fields.
While you're pressing the attack on the upper field, you'll be defending your castle down below. The game boasts several "storm" situations where Vikings, ghosts and the like will make a move on your castle. Much like previous Zen tables based on Plants vs. Zombies and The Walking Dead, these enemies actually pop out of the table to guard ramps or slowly march toward the flippers. Hit them with a ball and they're vanquished, which is yet another example of a wonderful event Zen orchestrates that could never be accomplished with "toys" on tables in the physical world.
Due to the open field and ramp-heavy design, the Castle Storm table goes from 0 to 60 regularly. You'll be leasurely shooting ramps or a row of drop targets off to the right and then, boom, you've triggered an event that has you hectically fighting enemies or going onto the offensive, the soundtrack shifting seamlessly from a relaxed fantasy march to a fast-paced war them, lights dimming and lightning striking with each skillfully placed shot.
It's an interesting dynamic and the constant changes in pace keep the table interesting. But while Castle Storm is a fun table that somehow manages to provide an experience unlike any of Zen's other dozens of tables, the clear standout of this bundle is the hugely entertaining Wild West Rampage, which is quickly becoming one of my favorite tables to date.
If you like a table that's fast and frantic and makes full use of its theme, then Wild West Rampage provides the spaghetti Western antics you've been searching for. You come to town as Cindy, a bounty hunter bent on cleaning up this one-horse train stop in the middle of nowhere while simultaneously dealing with a corrupt sheriff.
Wild West Rampage is packed to bursting with clever details spread across a wide body table that offers loads of toys, ramps and clever objectives that reward skill and careful play as well as fast and furious flipping. I should also mention the pitch-perfect soundtrack, a steadily rolling, twang-filled guitar romp that would fit into any Western climactic shootout or chase sequence.
A locomotive fires the ball onto the table, where it's likely to bounce off a trio of spinning wagon wheel bumpers on the middle right, or the sheriff star spinner tucked away in the back corner. A quartet of ramps at the back of the table lead into a saloon and out of adjoining windows, while a pair of six-shooters go off every time the ball hits the set of bumpers located just above the flippers. A second pair of flippers are also tucked away on the side, requiring an itchy trigger finger to launch yourself into some of the more difficult targets and ramps. Actually, if you're playing on consoles, the almost gun-like design of controllers feels more natural with Wild West Rampage than with any table before it, as your pulls of the trigger will constantly be greeted by the sound of bullets whizzing by or clanging off of bits of metal.
Achieving goals will trigger events like a barroom brawl (shoot bandit targets), a wrongful imprisonment escape, bounties to hunt down or a dynamite-happy lawman to keep in check.
Despite all of that, my favorite touch on Wild West Rampage is a small one but, like the rest of the table, it matches the theme so, so well. Land certain shots and your ball will come flying out of a second floor window in a spray of busted glass, just like a random baddie must do in every old school Western flick to ever grace the silver screen. I never tire of that animation, no matter how many times I've seen it.
So, unsurprisingly, Zen Studios has managed to wow me yet again. While I might have some reservations recommending the Castle Storm table if it was sold on its own, I consider it icing on a Wild West Rampage cake as part of the Iron and Steel DLC bundle.
Players: 1-2
Platforms: PS3, PS4, Vita, Xbox 360, Xbox One, Mobile
Developer: Zen Studios
Publisher: Zen Studios
ESRB: Everyone
Rating:
Your Daily Blend of Entertainment News
Staff Writer for CinemaBlend.