Why I Believe Activision Won't Screw Up Crash Bandicoot Again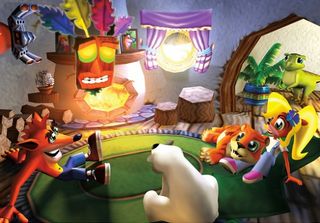 At E3 and online, I've been speaking with a lot of Crash Bandicoot _fans and while I had been screaming and bouncing off the walls during the announcement of the remastered _Crash Bandicoot games coming next year, many other fans sat in disgust. Activision doesn't have the greatest track record with the series and many fans are worried they're going to destroy it again. But believing something like that just isn't an option for me.
Crash Bandicoot _was originally developed by the narrative-mastermind, Naughty Dog, from the first _Crash Bandicoot game all the way up to Crash Team Racing, and after that the series took on a number of different developers and publishers only to spiral downward out of the spotlight. While Activision wasn't the cause ofCrash's descent into oblivion, they only perpetuated the problem, keepingCrash's strange new look (skinnier?) in Crash: Mind Over Mutant. But there are a few reasons why I still want to have hope that Activision will do it right this time.
First, this isn't a whole new rendition of Crash Bandicoot. This is a remastering of the classic games that were released by Naughty Dog back in the day. These are the classics, the golden games of Crash Bandicoot, and if Activision wanted to change them in any way, they'd risk a disaster release and a really pissed off dedicated fanbase. One of the biggest reasons Crash Bandicoot is coming back is because of the high demand from the fans, so to piss them off would completely contradict the purpose.
Secondly, they're just remasters. There won't be any new designs involved. It's all going to be making the graphics better, the gameplay smoother, and sound clearer, etc, but it's not going to be drastic changes implemented by Activision. And hey, there might be some new levels like they did in Ratchet And Clank, but it shouldn't be anything drastic. While it's hard to compare it to the Ratchet And Clank remaster, because that was done by the original developer Insomniac Games, I think it should still be reassuring that there's not a whole lot of extreme changes they can make to the Crash games we love. For example, Crash Bandicoot probably won't look like a fresh teenager who just hit puberty. Hopefully Activision will be smart enough to know they'll have to use his "classic" look and not the "Activision-look."
And finally, Activision isn't doing this on their own. They are partnering with Sony to bring it to life, and Sony had a hand in the original games, so they know what fans are expecting. That almost makes everything feel a little better because Sony knows just how badly everyone wants these games to be re-released and they won't let a crappy remastered collection happen---or at least, we can hope.
Because the demand is so high for Crash Bandicoot, it's just hard for me to envision Sony or Activision not thinking this whole thing completely through. I think they're going to give fans exactly what they've been waiting for. And even though it's not Naughty Dog who is working on the collection (which can be worrisome), I still have hope these games are going to get done the right way, because Activision would be crazy to do it any other way.
Your Daily Blend of Entertainment News