Gears Of War 4 Could Be Gearing Up For Another Big Announcement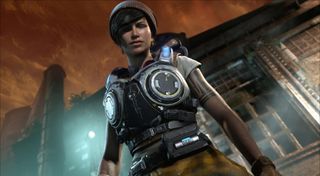 (Image credit: Microsoft)
There's a big announcement inbound for Gears of War 4, the upcoming third-person shooter for the Xbox One and Windows 10. The Coalition head-honcho Rod Fergusson sent out a couple of tweets hinting at some big news for the game.
Gamespot spotted a series of Tweets from Fergusson, who recently met with Major Nelson because there could be some news to share very soon. In fact, in the very tweets we see Ferguson with Nelson, exclaiming that they're talking "super secret" Gears of War 4 stuff.
This is followed up with a look at the makeup desk showing lots of makeup on the counter, and Ferguson joking that Major Nelson, real name Larry Hryb, needs to wear a lot of makeup.
One might be wondering what the point is of showing the makeup counter, but usually it's to prep before going on-air. If that's the case, then Nelson and Fergusson could be prepping to make some kind of video announcement regarding Gears of War 4.
There's also a slight clip of a Game Informer magazine just outside the view of the shot in the tweet above with what looks like Gears of War 4 on it. I'm not sure if the announcement is for something coming up or for something further down the line, but it sounds like it could be big.
Gamespot also further linked to tweets from Fergusson about some Easter Eggs they're implementing into the game. It's not entirely clear if the Easter Eggs tie into the other big announcement or if it's something completely separate all together.
Usually Easter Eggs in games these days is a model of a character or item from some other popular media, or maybe a texture on a wall or object hidden somewhere to give gamers a little "ah-ha!" moment.
In this case of Gears of War 4, it could practically be anything. Microsoft has been intertwining their properties lately to create a much more brand-rich ecosystem for the Xbox. We see a lot of characters from their most popular properties making the leap from one game to another as part of their cross-promotional efforts that they've taken up lately. For instance, we've seen General Raam from the first Gears of War appear in Killer Instinct, alongside the Arbiter from Halo 5: Guardians. Could we possibly see a Halo character Easter Egg in Gears of War 4? I don't know.
Anyway, the excitement is growing over the upcoming third-person shooter and the idea that a new video announcement is inbound soon has set the Gears of War universe to giddy mode.
There's no ETA on when we can expect the announcement, but it has to be coming soon, right?
Gears of War 4 is due for release on October 11 for the Xbox One and Windows 10 on PC. According to Gamespot, if you purchase the game digitally for the Xbox One before 2016 is over with, you'll be able to get free copies of the first four Gears of War games.
Staff Writer at CinemaBlend.
Your Daily Blend of Entertainment News
Thank you for signing up to CinemaBlend. You will receive a verification email shortly.
There was a problem. Please refresh the page and try again.