Here's What All The Dragon Ball Xenoverse 2 Editions Will Include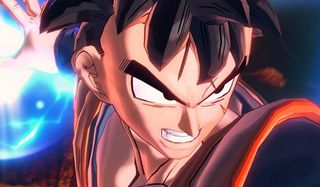 If you're gearing up to go super Saiyan once Dragon Ball Xenoverse 2 gets here, then you're going to need to do a little planning when it comes to how you want to purchase the game. This latest brawler set in the popular anime universe will be available in three flavors, with extra goodies for folks who decide to pre-order.
The first Xenoverse took the fighting community by surprise for a number of reasons. A multiplayer, open-world affair, the game lets you create your own character and fight your way through the most iconic moments from the entire Dragon Ball Z series. You could team up with up to three players online, take part in versus battles and even dive into a surprisingly deep customization suite in order to fine-tune your character with a perfect moveset. Oh, and following a couple of mediocre Dragon Ball games, Xenoverse was actually really-dang-good to boot.
So, obviously, folks are excited for this fall's arrival of Xenoverse 2, which will launch on the Xbox One and PlayStation 4 come October 25 and PC on October 28. Depending on how deep into the Xenoverse you want to travel, though, you've got some purchase options to consider.
First up is the Day One Edition of the game, which will be available to all early adopters and guaranteed to folks who pre-order Xenoverse 2. This version of the game will net you a special playable character from the ongoing Dragon Ball Super anime series, as well as a Tao Pai Pai Stick vehicle that you can use to fly around the player hub in Xenoverse 2. Whether you pre-order the standard edition of the game or either of the enhanced versions, you'll still get these goodies, too. This Day One Edition costs the usual $59.99.
Next up is the Deluxe Edition of Xenoverse 2. You'll gain early access to Future Trunks as a playable character, as well as a season pass to all of the future DLC coming to the game. The original Xenoverse kept the fun rolling with all sorts of post-launch goodies, and it looks like Xenoverse 2 will play by the same rules. The DLC will include four content packs that offer up playable characters, new story episodes and quests, Masters and Master Quests to learn from, additional stages, as well as new skills, costumes and accessories. That version will set you back $89.99. You can also buy the season pass separate for $30, or each portion of the DLC for $9.99 when it becomes available.
Finally, there's the Collector's Edition, which includes some additional swag for a whopping $149.99. You get everything from the Deluxe Edition of Xenoverse 2, as well as a Time Patroller's Guide art book, a steelbook case for the game, a soundtrack, collector's box and a rather impressive 13" statue of Goku.
Which edition of Xenoverse 2 will you be purchasing? Sound off in the comments below.
Your Daily Blend of Entertainment News
Staff Writer for CinemaBlend.