Dragon Ball Xenoverse Players Receive Free DLC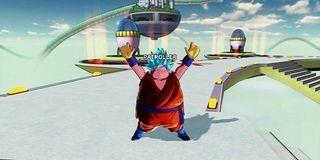 Dragon Ball Xenoverse players received a nice surprise yesterday in the form of some free DLC to help customize their character, including a pair of new outfits and a new wig.
Announced via the Bandai Namco blog, Xenoverse players have a few goodies to help tide them over until DLC Pack 3 finally arrives, though no date has yet been set on what is currently slated as the final piece of post-launch content for the popular brawling game.
Now available for the PlayStation 3, PlayStation 4, Xbox 360 and Xbox One versions of the game, players can download the "Resurrection F Costume Pack" for exactly zero dollars, unlocking the outfits worn by both Goku and Vegeta in the upcoming movie by the same title, as well as Goku's new Super Saiyan God blue hairstyle. The DLC should be included for all PC gamers who have the season pass, too, or you can grab it by following the link to the original news post.
The outfits look pretty much like every other version the duo has worn in the past, but now they bear the new markings of their current trainer. As for the wig, fans of the series will know that Goku, with the help of a bunch of his friends, attained the level of Super Saiyan God in the most recent movie, Battle of Gods. In the upcoming Resurrection F, the gang will have to wage war against a new version of Frieza and, to do it, it looks like Goku will achieve an even higher version of the God form, which now turns his hair pointy and makes it glow a lovely blue.
Unlike costume bits gained from previous DLC packs, these bad boys will be added to your in-game inventory immediately, so you won't have to spend a bunch of Zeni in order to purchase them from the shop. Just download the DLC, fire up Xenoverse and, boom, you've got some new duds.
Dragon Ball, in general, is experiencing a resurgence as of late. While the similar brawler Battle of Z didn't turn too many heads last year, Xenoverse sold like hotcakes when it launched a couple of months ago. There are those two new movies we just mentioned, plus the recently announced new series, Dragon Ball Super, which is due out this summer in Japan. There's also a new fighting game coming to the 3DS, boasting a massive roster of characters.
But the final chapter for Xenoverse still hasn't been written. While two of the game's DLC packs have already launched, a third (and supposedly final) pack is still due out at some point. So far, all we know is that it will include the new form of Frieza, featured in the upcoming movie. If it's anything like the previous DLC packs, though, you can probably expect a couple of other characters, some new missions, and lots of new cosmetic items and abilities to equip.
Your Daily Blend of Entertainment News
Staff Writer for CinemaBlend.
Your Daily Blend of Entertainment News
Thank you for signing up to CinemaBlend. You will receive a verification email shortly.
There was a problem. Please refresh the page and try again.