Dragon Ball Xenoverse Resurrection F DLC Coming Next Week With These Features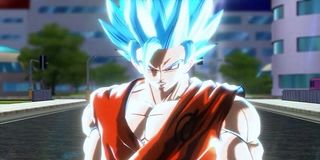 Dragon Ball Xenoverse is set to power up way beyond 9,000 next week as Bandai Namco announces the impending launch of DLC Pack 3, boasting all sorts of new content including missions, playable characters, outfits and more.
Perhaps better known by fans as the Ressurection 'F' DLC Pack, this third addition to Xenoverse's post-launch lineup features all sorts of new content pulled from the upcoming movie by the same name. In case you've fallen out of the loop, Dragon Ball Z returned to the mainstream in a big way last year with the Battle of Gods movie. That led to a not-so-fantastic game, Battle of Z, that was quickly followed by a much better title, Xenoverse.
Not only did Xenoverse receive praise from critics and fans alike, but the game has gone on to be quite successful, selling oodles of copies alongside all of that extra DLC. This third batch of DLC will finish off the season pass collection on June 9, though that doesn't necessarily mean there won't be any further content for the game.
As for what you can expect out DLC Pack 3, here's the rundown from the publisher. As a final reminder, you can get this content included in the season pass or standalone for 10 bucks:
-Four playable characters: Super Saiyan God Goku, Super Saiyan God Vegeta, Golden Frieza and Jaco the Galactic Patrolman.
-Two new masters: Elder Kai and Jaco
-Eight new Master Quests
-Five Parallel Quests
-14 new skills
-Two costumes: Gohan's Tracksuit and Turtle Hermit's Aloha Shirt
-Two new accessories: Tagoma's Souter and Turtle Hermit set
-A new in-game gesture
-Seven new Z Souls
What that all really boils down to is a bunch of new fighters for your roster, a handful of new missions to grind through and a bunch of new ways to further customize your own character. Oddly missing this time around is new story content, though I figure that has something to do with the fact that the Resurrection of 'F' movie hasn't been out long enough to avoid potential spoilers.
The massive 100-character < a href=http://www.cinemablend.com/games/Dragon-Ball-Z-Fighter-Hitting-3DS-With-Over-100-Characters-70120.html>DBZ fighter for 3DS is also due out in Japan next week, with the brand new series, Dragon Ball Super set to launch this summer. In other words, it's a great time to be a fan of pointy-haired heroes and moves that require charging up for three straight episodes.
Also, since that new movie will probably arrive Stateside in the coming months and Super will likely be available before that, here's hoping that Xenoverse has at least a little more >DLC coming down the pipeline. Then again, maybe they're saving that for a possible sequel? A guy can dream, I suppose.
Your Daily Blend of Entertainment News
Staff Writer for CinemaBlend.