When You Can Finally Play Adr1ft On Xbox One And PS4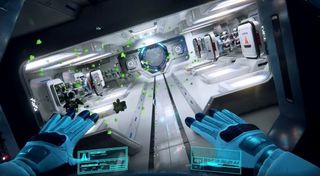 (Image credit: Three One Zero)
If you own a PS4 you can expect to play the space survival game Adr1ft on PS4 starting next week when it launches on the PlayStation Store for digital download. If you own the Xbox One you will have to wait until September 16th to get your hands on the game.
Engadget did a quick write-up about the space simulation about surviving a space station wreck, letting gamers know that the VR-based title from Three One Zero will be arriving on home consoles following its release for the Oculus Rift and HTC Vive.
Engadget also speculates that Adr1ft could potentially make use of the PlayStation VR's capabilities on the PS4 when the HMD launches this October. However, given that the game is running on the Unreal Engine 4 and makes full use of some of the engine's more advanced lighting features, shaders and rendering techniques, it's difficult to imagine this game running on the PlayStation VR with the PS4's limited hardware capabilities. The game is already a strain on most high-end PCs even without the VR components attached, so it seems highly unlikely Adr1ft would be made available for the PlayStation VR unless Three One Zero took a lot of time and effort to downgrade the game to run at 60fps (though it should be 90fps) on the PlayStation VR.
I have a hard time seeing this game running at 60fps on the PS4 and Xbox One at 1080p, so it seems unlikely that they would be able to achieve double that frame-rate on the PS4 through the PlayStation VR.
The reason games have to run at 60fps or higher in VR is to prevent nausea and VR sickness, something that commonly occurs when games either don't maintain 60 -- 90fps, or when they have inconsistent frame drops or frame-stuttering, creating optical disparity between what you're seeing and what the brain is interpreting. The inconsistency in frame-rates usually creates a sensation of motion sickness, which can result in vomiting, vertigo, dizziness or feeling lightheaded.
However, if Three One Zero can scale back the graphics enough to get Adr1ft to run at 60fps with absolutely zero drops on the PlayStation VR, then it's completely possible we could see the game on Sony's upcoming HMD.
The game itself has been compared a lot to Alfonso Cuaron's Gravity. Both of them feature a female scientist adrift in space after a space station mishap. The big difference between the two is that in Adr1ft players will spend a majority of the game attempting to salvage enough equipment to survive the ordeal.
This isn't a typical sci-fi survival game. You won't be outrunning monsters like in the underwater sci-fi horror title from Frictional Games, Soma. You also won't be extracting security trackers from your spine using a self-serve surgical center like in The Brotherhood Games' Stasis. Instead, everything is kept fairly realistic in Adr1ft, where players will have to keep their oxygen supply maintained while limiting the damage caused to the environment suit.
You can look to get your hands on Adr1ft for the PlayStation 4 starting next week, and two months later for the Xbox One on September 16th.
Your Daily Blend of Entertainment News
Staff Writer at CinemaBlend.